February 15th, 2021 Shenzhen, China - TerraMaster, a professional brand that specializes in providing innovative storage products including network-attached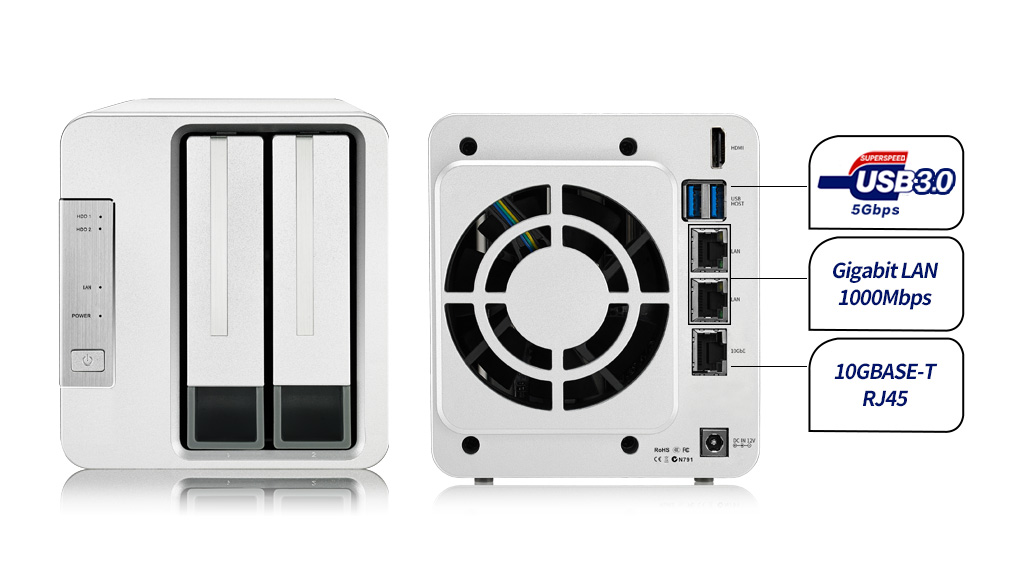 storage (NAS) devices, presents improved TerraMaster F2-422 2-bay NAS powered by the all-new TOS 4.2 system. The TOS 4.2 update enables the F2-422 to do more, giving businesses more value to your investment. Equipped with high-speed 10 Gigabit Ethernet (GbE) port, the F2-422 can be easily integrated into any 10GbE network without the need for a 10GbE NIC card.
All-new TOS 4.2
TOS 4.2 brings new features to the F2-422 including Web Server support, Wake-on-LAN (WOL) support, IPv6 support, improved security with SSL, improved support and monitoring, and other features.The F2-422 brings affordable yet powerful storage solution for small businesses addressing today's demanding standards.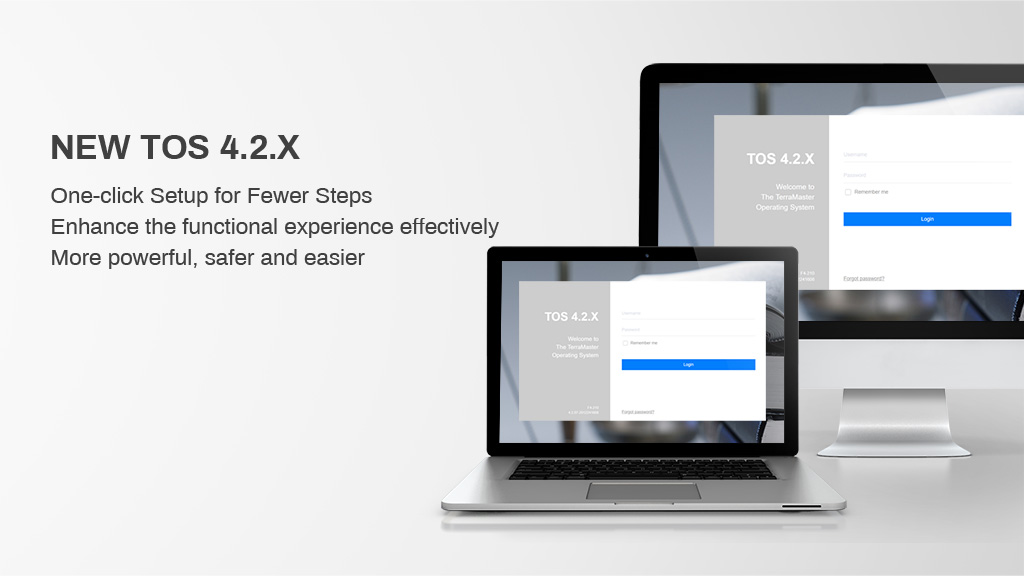 Powerful and Efficient
The TerraMaster F2-422 is equipped with an Intel Celeron quad-core 1.5GHz processor with a turbo boost of up to 2.3GHz. It packs 4GB of DDR3 memory which is upgradeable to 8GB. For high-speed networking, this TNAS has two 1GbE ports and a 10GbE port. Using 10GbE, the F2-422 can deliver speeds of up to 670MB/s read and 650MB/s write.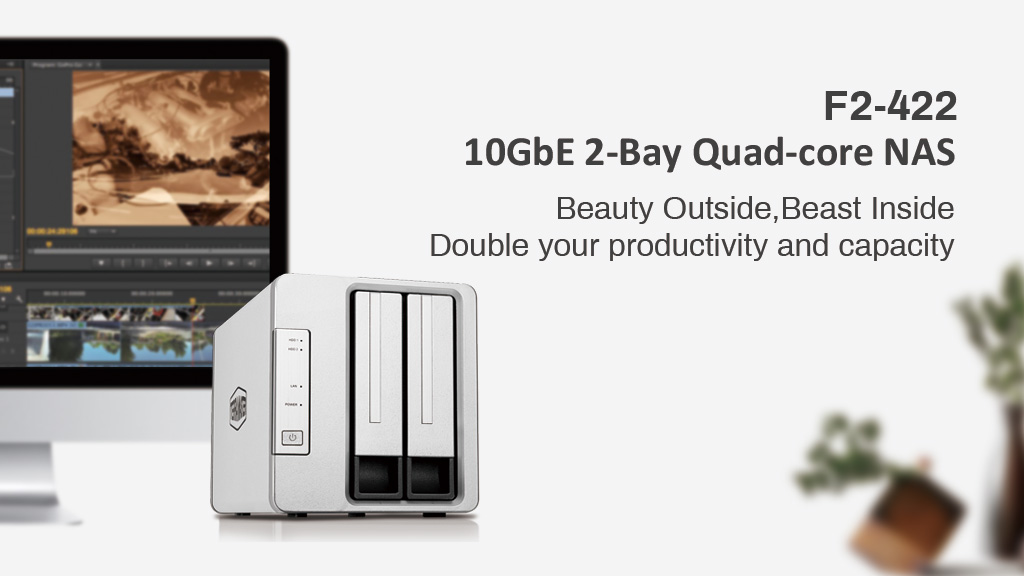 Controlled and Secured Access
Make collaborations easier by establishing your own private cloud storage with the F2-422. Equipped with AES hardware encryption, shared folders and network data are secured and protected against unauthorized access. Rights of access can be fully controlled and tailored to your co-workers, family, friends, and other collaborators. With private cloud storage, users can securely access and collaborate remotely.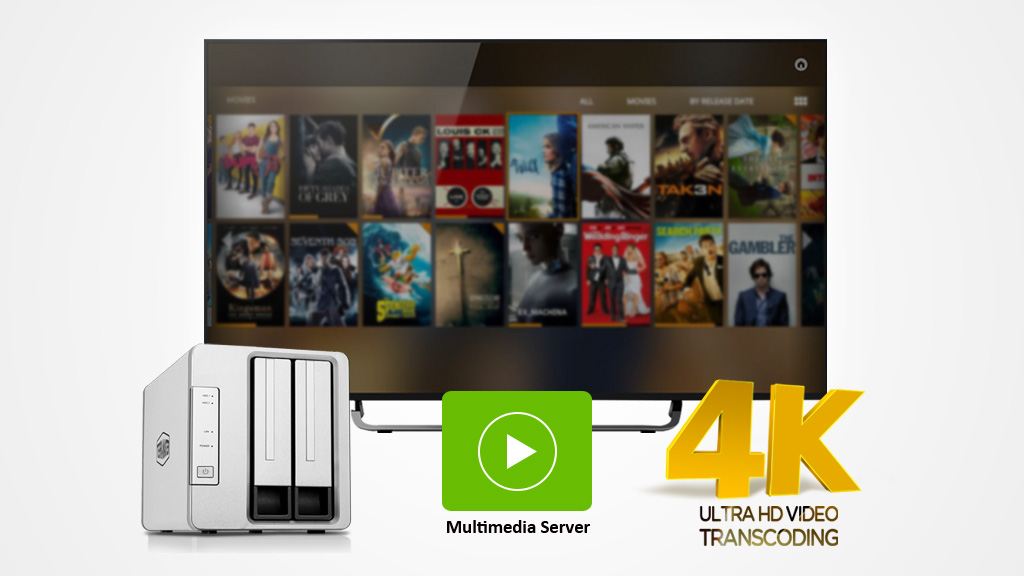 4K Ultra Media Player
The F2-422 features 4K ultra-HD video transcoding enabling high-quality 4K and 8K video playback directly to supported devices including smart TVs, digital media players, smartphones, tablets, and computers. Use the TNAS to watch your entire multimedia library without using a dedicated media player. The high-speed 10GbE connection enables smoother 4K/8K video playback.
Advanced Protection and Recovery Options
To protect users from data loss, the TerraMaster F2-422 comes with optimized snapshot technology built into the Btrfs system. Optimized snapshot technology generates a secured virtual copy of your data, creating 1,024 snapshots for every shared folder and up to 71,680 overall system snapshots. Snapshots promote data integrity and prevent data loss. The TNAS also comes with multiple layers of protection, supporting SSL encryption, firewalls, Anti-DoS attacks, and account protection.
Aside from the F2-422, The TerraMaster 10GbE Series models include the F4-422 (4-Bay), F5-422 (5-Bay), and F8-422 (8-Bay) Professional NAS devices.
Availability and Pricing
The TerraMaster F2-422 2-bay NAS is now available at Amazon for $359.99. To learn more, please visit TerraMaster.com
About TerraMaster
TerraMaster is a professional brand the focuses on providing innovative storage products, including network attached storage and direct attached storage that has become increasingly popular in over 40 countries and regions. The brand has been developing storage technology for 8 years, addressing the needs of customers such as small and medium businesses and home users.