Cooler Master has a UCP series is meant for powering high-end system setups with multiple nVidia SLI graphic card setups with power to spare. These power supplies were made with circuit protection in mind to prolong the life-time of the power supply and protect your PC Components.


The soft-start circuitry limits inrush currents and the usage of quality components such as solid Japanese capacitors and intelligent fan control scream quality and performance.



Watch PCWizKid's video review of the Cooler Master Ultimate Series 700W PSU

{youtube}Vwta0xCIBIU{/youtube}
---
These are PCWizKid's test system specifications (click on the links below for individual reviews)

- Kingston HyperX 4GB DDR2 1066
- Ambient room temperature is 20C or 68F
---
Specifications
Model
RS-700-AAAA-A3
Type
Intel ATX 12V V2.3 / SSI EPS 12V V2.92
Dimension (W / H / D)
150 x150 x 86 (mm)
Input Voltage
90~264V
Input Current
10A@115Vac / 5A@230Vac
Input Frequency Range
47~63Hz
PFC
>0.9
Power Good Signal
100~500ms
Hold Up Time
>17ms
Efficiency
>87%
MTBF
>100,000hrs
Protection
OVP / OCP / OPP / SCP / UVP / OTP
Output Capacity
700W
Max. Output Capacity
840W
Operation Temperature
0~40 C (Nominal Input Voltage)
Regulatory
NEMKO / TUV / CE / GOST / C-tick / UL / FCC
Fan
120mm Fan
Certification
SLI / 80 Plus
Connector
M/B 24 Pin Connector x 1
CPU 4+4 Pin x 1
PCI-E 8 Pin x2
PCI-E 6 Pin x4
Peripheral x 5
SATA x 6
Floppy x 1
The allocation of the AMPS / Wattage is as follows:
The UCP 700W provides 133W across the +3.3V and +5V rails and divides the +12V(1-4) into four 19A rails for a total of 624W. This is enough power for that PC Gamer looking to setup a multi-GPU nVidia SLI setup for example. Thanks to the high efficiency ratings, you can feel confident the power is delivered consistently and reliably when you need.
Conclusions
One of the best rated PSU's on the market today, cooler Master delivers a quality product,
rated and certified for confidence and backed up with 5 years of warranty its not surprising this is a rugged tough PSU. Though it does not have a modular design for the output cables making it a little messy to contain and hide in your case if thats your thing. Overall the design and looks are of high quality which compliment its power efficiency and energy saving consumption which in my books is all you really need in a performance gaming rig.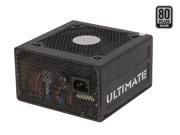 Click here for the latest pricing for the Cooler Master UCP RS700-AAAAA3 700W PSU