Wish you could have a very large display area? Do you have 2 DVI monitors? Well your in luck! SAPPHIRE's Vid-2X is a compact stand-alone unit that allows two Full HD DVI monitors to be connected to a single Thunderbolt, DisplayPort or DualLink-DVI output of a laptop or desktop. The device is ideal for computing devices that cannot easily be expanded such as laptops and netbooks as well as for users that are restricted from opening their PCs by warranty or corporate rules – or simply don't feel comfortable doing it. Two models are offered - one with DisplayPort (Thunderbolt compatible) input and one with DualLink DVI input which PCWizKid will be reviewing.
Just plug in two HD monitors and a USB cable for power and enjoy the instant productivity gains that multi-monitor set ups offer. For classrooms or boardrooms, the Vid 2X can even mirror the same image on the two different monitors; ideal for learning environments and engaging presentations.
With an MSRP of US$ 179 Vid-2X allows you to have many applications open making tasks faster, better and more enjoyable.  Working on a full 3840x1080 desktop suddenly users spend less time flipping through open files, programs and emails, digging for what they want.   Plus, thanks to being totally independent of hardware and operating system it works with Windows, Linux, OS-X and most other Operating Systems.   Advanced features include display spanning, display stretching, display cloning, and bezel management. 

Specifications
Input Format

VESA Dual-Link DVI with max 24bit Colour Depth


Output Format

2 x Single Link (max 1920 x 1200) DVI
2 x HDMI also supported via adapters (not included)


Connection Diagram

DV2185 (Download)


Power Requirements

Mini USB Power DC +5V


Display Mode Table @ 50Hz/60Hz, 24 bpp

Stretch-Mode : 3840x1200 / 3840x1080


Display Mode Table @ 60Hz, 24 bpp

Stretch-Mode : 3360x1050 / 3200x1200 / 3200x900 / 2880x1050 / 2880x900 / 2732x768 / 2560x1024 / 1920x1200
Stretch/Clone-Mode:1920x1080 / 1600x1200 / 1600x900 / 1440x1050 / 1440x900 / 1366x768 / 1360x768 / 1280x1024 / 1280x800 /1280x768 / 1024x768 / 800x600


Dimenstions

(WxHxD): 114 x 32 x 107 mm


Weight

Net Weight: 210 g


Regulatory Approvals

CE, FCC, IECS, MCC, WEEE, RoHS


Ambient Operating Tempurature

0 – 55°C (Min/Max)


Storage Temperature

-40 to 75°C (Min/Max)


Operating Humidity

20 – 80% relative humidity (Non-Condensing)


Storage Humidity

5 to 95% relative humidty (Non-Condensing)
Video Review
Conclusion
The Vid-2X allows easy connection of two monitors on a single display output connector, which many laptop users and those with desktops most likely have.  DVI output is common, and while your graphics card may support larger displays, your monitor in most cases will be a 1920x1080 and being able to add another monitor to expand your display without having to get an eyefinity graphics card is how this device works.  Just plug-in play as shown in the video review,  both monitors look like one large display area, in our case
3360x1050, and then adjust using the bezel management if needed and your done! Not a bad choice if you want something portable, quick and easy.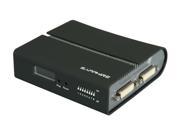 Click here for the latest price on the SAPPHIRE Vid-2X DVI-to-Dual DVI Display Expander