CyberPowerPC Syber M Elite 300 Gaming PC Review
For PC Gamers out there today we have a CyberPowerPC from the Syber M Elite series. The Syber M Elite 300 Series features the latest generation of high performance Intel Core i7 processor, the 6700K and ultra-quick DDR4 RAM,  it is meant to easily handle system-intensive and multi tasking, such as HD video playback and gaming.   With a powerful discreet EVGA GTX 1070 video card, the Elite 300 promises to provide smooth gaming and multimedia experience.
Some background about the system builder CyberPowerPC.  CyberPowerPC is one of North America's leading computer system manufacturers. As published in the Los Angeles Business Journal in 2003, they were the fastest growing private company in Los Angeles. With vision, commitment, and steadfast determination, they manufacture and distribute various customized high-end gaming machines, notebook systems and high performance workstations to meet the unique needs for gamers, businesses, government agencies, educational institutions and other end-users.
CyberPowerPC was founded with two simple goals in mind. It is to provide our customers with both personalized cutting edge technology at wholesales prices and an extensive range of technological support. By being the manufacturer and the distributor, they are dedicated to meet your personalized desires with the highest performance for all your gaming and digital media solutions.
For today here are the specifications of the system.  Keep in mind that you can customize the system to your liking as CyberPowerPC has many choices of option to switch and change to make you happy.
Review - Part 1

Benchamrks Review - Part 2 Video

INTEL CORE I7-6700K 4.0 GHZ CPU
ASETEK 550LC 120MM CPU Liquid Cooler
GIGABYTE GA-G1.SNIPER Z170 Motherboard
CORSAIR 8GB DDR4-3000 VENGEANCE Memory
EVGA SUPERCLOCKED ACX 3.0 GTX 1070 8GB
CORSAIR CS650M 80PLUS 650W CSM SERIES PSU
256GB INTEL 600P SERIES SSD PCIE NVME M.2
2TB HDD 3.5" SATAIII 7200RPM 64MB CACHE
BLACK LG 14X BLU-RAY REWRITER
THERMALTAKE RIING 120MM HIGH STATIC PRESSURE FANS
WHITE LED USB GAMING MOUSE


Conclusion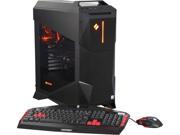 The Syber M Elite 300 proves onces again how experienced CyberPowerPC is when it comes to putting a gaming system together that looks and performs with high standards in mind.  The clean interior and choice of components make this gaming rig not just a beautiful sightto see and a pleasure to play your favorite latest gaming titles at highest possible graphics settings.  Backed by exceptional performance from the Intel Core i7 6700K running at set at 4.4Ghz out of the box and paired up with the EVGA GTX 1070 there was no doubt at the end of all the bencharks that the Syber M Elite 300 has absolutely delivered everything it set out to achieve for PC Gamers.  Interesting to note also, that with the drop in price of DDR4 memory, this exact system comes now with 16GB of DDR4 memory instead of the 8GB that we had.  This means even greater performance can be obtained.  Defenitely a recommended system to buy for less than $1500 USD and PCWizKid's Tech Talk awarded it with "Editor's Choice" over other system builders out there.  Click here for the latest pricing.