The launch of the HD 6800 series graphics cards is a departure from the previous generation of AMD GPU's.  As a AMD Partner Sapphire has released its latest graphics cards based on the BART GPU which is targeting the mainstream market.  The Sapphire HD6850 is a contender to deliver and surpase what the NVIDIA GTX 460 and other Fermi based graphics cards released earlier this year have to offer and PCWizKid takes a first look at the details and puts the Sapphire HD6850 to the test.
When comparing the new Sapphire AMD HD6850 to other cards and the previous generation of HD cards from AMD, we see that there has been a re-branding and slight change to the meaning of the HD6800 series.  In essence the HD6800 series replaces the HD5770 to HD5850 range of video cards.  Take a look at the chart below for a comparison.  Also note that the New Radeon series of graphics cards will now be branded as AMD Radeon and not ATI Radeon.  This is because of the acquisition of ATI by AMD and it really just makes sense.

Sapphire HD6850 Specifications

Output
1 x Dual-Link DVI
1 x HDMI 1.4a
1 x DisplayPort
1 x Single-Link DVI-D

GPU
775 MHz Core Clock
40 nm Chip
960 x Stream Processors

Memory
1024 MB Size
256 -bit GDDR5
4000 MHz Effective

Software
Driver CD
SAPPHIRE TriXX Utility

Accessory
1 CrossFire™ Bridge Interconnect Cable
D-Sub Adapter
6 PIN to 4 PIN Power Cable
HDMI 1.4a high speed 1.8 meter cable(Full Retail SKU only)
System Requirements
PCI Express® based PC is required with one X16 lane graphics slot available on the motherboard.

500 Watt Power Supply is required.

1 X 75Watt 6-pin PCI Express power connector is required.

2 X 75 Watt 6-pin PCI Express power connector is required for CrossFireX™ system.

Certified power supplies are recommended. Refer to http://ati.amd.com/certifiedPSU for a list of certified products.

1024 MB Minimum of system memory.

Installation software requires CD-ROM drive.

DVD playback requires DVD drive.

Blu-ray™ / HD DVD playback requires Blu-ray / HD DVD drive.

For an ATI CrossFireX™ system, a second same ATI Radeon™ graphics card, an ATI CrossFireX™ Ready motherboard and one ATI CrossFireX Bridge Interconnect cable per graphics card (optional) are required.

To support 3 displays, one of the monitors has to support DisplayPort.
PCWizKid's Test System

- AMD Phenom II X6 1090T CPU @ 3.2Ghz to 4Ghz overclocked.
- Asus Crosshair IV Formula 890FX Motherboard
- Kingston HyperX  4GB DDR3 Memory
- Windows 7 Ultimate 64bit
- Ambient room temperature 22C or 72F
Sapphire HD6850 Review Part 1

Sapphire HD6850 Benchmarks Part 2

Conclusion
The Sapphire HD6850 performed awesome in nearly all the gaming tests and outdid the Sapphire HD5830 previously reviewed. This makes the new Sapphire HD6850 the best budget graphics card that delivers superior performance and no expense of generating more heat or using excessive energy.  The Sapphire HD6850 proved to have more overclocking headroom than anticipated and will appeal to whose who want to squeeze the most out of it.  Top it off with the new generation of features with improved Eyefinity and Display Port v1.2 and HDMI 1.4a and the addition for supporting 3D Stereoscopic HD3D and your set for a whole new experience in gaming.  The bottom line is that the Sapphire HD6850 hits the bulls-eye for best bang for your buck and this is why PCWizKid gives this a "Editors Choice" award.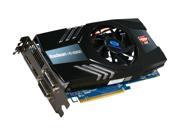 Click here for the latest pricing on the SAPPHIRE Radeon HD 6850 100315L Video Card with Eyefinity