The latest release of the AMD HD6900 series GPU's is showcased in todays review of the new Sapphire AMD Radeon HD6950 2GB Graphics Card.  This new GPU core is codenamed Cayman Proand build upon the previous generation of HD5800 series GPU's from AMD codenamed Cypress but there are some noteworthy changes that the Sapphire HD6950 has to offer.  Since AMD's has moved to a simplified VLIW4 architecture for the thread processors the number of SIMD engines has been increased by four for a total of 24. Each of these engines features 16 thread processors with four ALUs each (for a total of 64 ALUs per SIMD), four texture units, 512KB of L2 texture cache and 64KB associated towards the local data share.

All in all, Cayman may have less Shader Processors than Cypress but the processors themselves are slightly more efficient and the architecture has additional texture processing power granted by the additional 4 SIMD engines. Essentially we can see how the HD6900 series is meant to replace the HD5800 series for 2011.

Much like on the HD6800 GPU codenamed Bart, we can also see that in an effort to increase rendering efficiency even more, AMD has broken up the Ultra Threaded Dispatch Processor into two with each section having its own instruction and constant cache. This dispatch processor basically acts like a traffic cop, directing draw calls to the SIMD arrays. With each directing its own "half" of the SIMD engine, rendering information can be processed at a much quicker rate.

AMD's design choices are interesting to say the least but this new architecture will have its strengths and weaknesses when compared on a level playing field against Cypress. Since geometry performance has been the overriding focus here, we can naturally expect Cayman-based cards to run circles around the HD 5800-series in some games. However, not all of the first generation DX11 games incorporate higher level geometry or higher levels of tessellation. DX10 and to a greater extent DX9 applications also lack a real need for increased performance in this area as well, which may very well lead to a relatively minor gap between AMD's current and past generations.

One thing to remember here is the Cayman represents a second generation DX11 architecture so the focus was put upon increasing DX11 performance rather than addressing any non-existent need for higher DX9 / DX10 rendering capacity. This means that for the time being many of the available games simply lack the resources to fully take advantage on what the Sapphire HD6950 has to offer.
Here is a comparison chart to give you an idea on how the Sapphire HD6950 Compares with previous generations AMD GPU's

| | | | | |
| --- | --- | --- | --- | --- |
| GPU | Radeon HD 5870 | Radeon HD 6850 | Radeon HD 6870 | Sapphire HD6950 |
| Die Size | 334 | 230 | 255 | 289 |
| Shader units | 1600 | 960 | 1120 | 1408 |
| Texture Units | 80 | 56 | 56 | 88 |
| ROPs | 32 | 32 | 32 | 32 |
| GPU | Cypress | Barts Pro | Barts XT | Cayman |
| Transistors | 2154M | 2000M | 1700M | 2640M |
| Memory Size | 1024 MB | 2024MB | 2024MB | 2048MB |
| Memory Bus Width | 256 bit | 256 bit | 256 bit | 256 bit |
| Core Clock | 850 MHz | 775 MHz | 900 MHz | 800 MHz |
| Memory Clock | 1200 MHz | 900 MHz | 1050 MHz | 1250 MHz |
| Price (aprox USD) | $399 | $179 | $230 | $300 |
PCWizKid's Test System
- AMD Phenom II X61100T CPU @3.3Ghz
- Jetway HA12 890GX Motherboard
- 4GB DDR3 Kingston HyperX CL9 2000Mhz Memory
- EverCool Terminator CPU cooler
- Lian-Li PC-8FI Mid Tower Case
- RaidMax Monster 1000W PSU
- Windows 7 Ultimate 64 bit
- Ambient Room Temperature 21C (+/- 1C)
Part 1 Video Review - First Look
Part 2 Video Review - Benchmarks
Conclusion
The Sapphire Radeon HD 6950 is about $50 cheaper than the GeForce GTX 570 and a no brianer for those looking for enthusiast quality performance at a lower price point. The Sapphire HD 6950 fills the gap between the high-end performance card and the mainstream card at $300 and is faster than a HD 6870 and GTX 460 and the HD5850. The card does come quite close to the HD5870 on a few tests, and is clearly faster than the GTX 470. With 2GB of GDDR5 memory this card is your next generation GPU for effinity technology and 3D gaming.  PCWizKid was very pleased also at the temperatures the Sapphire HD6950 had even though it was using the standard AMD reference design from with the traditional blower fan. The Sapphire HD6950 is very agressively priced for what is offers, with excellent tessellation and scalling this makes it a terrific option for enthusiasts also looking to run two of these in a crossfire configuration.  PCWizKid gives this a recommended choice award.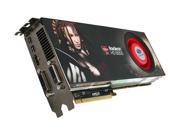 Click here for the latest pricing on the SAPPHIRE Radeon HD 6950 100312SR Video Card with Eyefinity