Raidmax has a new VIPER case which combines ease-of-use and technical excellence with stunning good looks. The VIPER offers PC builders easy access and tool-free installation, advanced cable management, and a unique design with a choice of three colors. Incorporating the latest technologies such as USB 3.0 ports but yet offering at this affordable price level, RAIDMAX once again proves itself an excellent price-performance PC chassis professional.
VIPER's stylish design exudes cool power and makes building or modifying your own PC a breeze. There's nothing else on the market quite like the new VIPER.
Simple click-lock technology makes installation of disk drives incredibly easy: no tools required. Drives just slide smoothly into the bay and lock into place. There's no hassle finding the right sized screws or fiddling with dropped screws.
The RAIDMAX VIPER provides reliable air flow to prolong the life of your valuable PC components. There are three 120mm fans for maximum thermal efficiency. The optional side window mounted 120mm blue led fan not only keeps your system cool but also looks awesome. The VIPER's advanced cable management and protection features improve airflow and keep your cables clear of fans. Mesh expansion slots provide enhanced cooling for your expensive graphics card and other components.
Specifications
EXTERNAL DRIVE BAYS:

4 X 5.25", 1 X 3.5"

INTERNAL DRIVE BAYS:

4 X 3.5" H.D.

SYSTEM BOARD:

10" X 12" MAX SIZE ATX FORM FACTOR / MICRO ATX

EXPANSION SLOTS:

STANDARD ATX 7 SLOTS

I/O PORTS:

1 X USB3.0 + 1 X USB2.0 / 2 x AUDIO

DIMENSIONS:

521(L) X 185(W) X 445(H)mm
COOLING SYSTEM

FRONT:

1 X 120mm blue LED fan

SIDE:

1 x 120mm blue LED fan (optional)

BACK:

1 x 120mm Black frame with Black leaves fan

TOP:

None
COLORS
Video Review
Conclusion
The looks and styling of the Viper are pretty nice.  While PCWizKid is not a big fan of front doors on cases, the internal features and support are truly worthy of a gamers rig.  For the price of aproximately $60 USD (MSRP) having a tool-less design, good cooling capabilities and options to expand are needed.  Cable management is good , though the back side oanel behind the motherboard is a little tight.  However as seen in PCWizKid's video review for a mid-range mainstream rig its well balanced and a good choice compared to other cases of the same price range.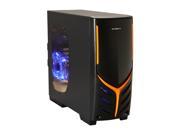 Click here for the latest pricing on the RAIDMAX ATX-321WB Black Computer Case With Side Panel Window