PowerColor has released some interesting editions of the HD5000 series video cards with premium aftermarket cooling solutions , pre-overclocked and with bundled software.  Today PCWizKid takes a look at the PowerColor PCS+ ATI Radeon HD5870 - Call of Duty Modern Warfare II Edition card.  Looking at the bundle, we've got everything we would expect out of a high end model.  PCWizKid takes a close look at the card in the video review below.
Specifications
Graphics Engine

RADEON HD5870

Video Memory

1GB GDDR5

Engine Clock

875MHz

Memory Clock

1225MHz (4.9Gbps)

Memory Interface

256bit

DirectX Support

11

Bus Standard

PCIE 2.1

Standard Display Connecors

DL-DVI/DL-DVI/HDMI/DisplayPort

Feature Support

DirectX Support

11

OpenGL

Support

CrossFireX Technology

Support

ATI Stream Technology

Support

ATI Eyefinity Technology

Support

ATI Hypermemory Technology




Display Support

VGA Output

Via Adapter

DVI Output

Dual Link DVI-I x2

DisplayPort

On Board

HDMI

On Board

TV Output




HDTV Output




HDCP Support

Support

Maximum Resolution

VGA

2048x1536

DVI

2560x1600

DisplayPort

2560x1600

HDMI

1920x1200

Power Specs + Board Dimensions

Board Dimensions

257mmx111mmx38mm

Minimum System Power requirement (W)

500W

Extention Power Connector

Two 6-Pin PCI Express Power connectors
PCWizKid's Test System
- Phenom II X4 965 Overclocked to 4Ghz 
- Gigabyte MA790FXT-UD5P Motherboard
- OCZ 4GB DDR3 AMD Black Edition (8-8-8-24)
- WD Caviar Blue SATA HDD 500GB
- Tuniq Ripper 1000 Watt Power Supply
- Cooler Master Scout Case
- Noctua NH-D14 CPU Cooler
- Windows 7 Ultimate 64bit
Note: Ambient room temperature is 20C Celsius during tests.
- All tests are performed at 1280x1024 and 1680x1050 resolution for consistency in results and comparisons with other system tests an video cards in the same test system.  These are benchmarking resolutions which are commonly used.

Game settings for benchmarks are always maxed out,  AA at 4x or 8x either Very High or Enthusiast levels when available.
Video Review
Conclusion
The thermal performance of the PowerColor PCS+ HD5870 is excellent, and that is one noticeable mark which makes this card a
terrific choice.  Secondly, the fan is much more quiet than a stock blower type fan which gives another thumbs up!  Last but not least is its frames per second performance and rendering, as demonstrated in the video review, are above average for a HD5870 with overclocking capability taking performance of the card up a level easily without increasing voltage or adding much heat we squeezed a little bit more out of what is already a lot.  The addition of a recent new game adds bonus to get you started on enjoying this premium top notch video card to the max!  An A+ "Recommended Choice" award from PCWizKid.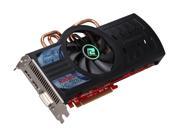 Click here for the latest pricing on the POWERCOLOR PCS+ Radeon HD 5830 AX5830 1GBD5-PPDH Video Card w/ Eyefinity