PCWizKid has been eagerly awaiting the new AM3's for while now.  The anticipation of how AMD was planning to answer back to Intel with a cost effective approach is not only smart but well received since we are going through tough economic times.
Not too long ago we reviewed the Phenom X4 9950, today we review an upgraded architecture using the AM3 938 pin socket.  This Tripple core, black edition we have is the Phenom II X3 720.  The model for your reference is HDZ720WFK3DGI .
Watch PCWizKid's detailed video review of the Phenom II X3 720 BE CPU
Video Notes:
TEST SYSTEM SPECS
PCWizKid's Test system uses the AMD Phenom II processors, AMD 790GX based motherboards, and the well known ATI HD Radeon 4800 series graphics cards.  This combination is referred to as the "Dragon" platform.

- Phenom II 720 X3, overclocked at 3.4Ghz (200Mhz bus speed x 17 multiplier)

Core voltage only was raised to 1.475v for a stable system at that high frequency.  The no load temperature was 24C and full load temperature was 30C

.

Ambient room temperature was 20 Celsius during all tests.
- Asus M3A78-T Motherboard

BIOS needed to be updated to v8.02 to support the new AM3 CPU's

- Diamond HD4870 x2 2GB

Video card was overclocked to 790Mhz Core clock and 990Mhz memory clock

The AMD ATI Radeon Catalyst drivers version were 8.12

ATI Overdrive was tweaked manually and the fan was set to at least 50% speed

DirectX 10 was used
- Kingston HyperX 4GB DDR2 1066, settings were 5-5-5-18
- Cooler Master V8 CPU Cooler
- Hiper Osiris Case and Hiper 880 Watt PSU
- Replaced the front intake fan with a Silverstone F123 variable fan , which was used between 1200 to 2600 RPM
- Windows Vista Ultimate 64bit SP1 fully up to date
- All tests are performed at 1280x1024 resolution for consistency in results and comparisons with other system tests.

Game settings for benchmarks are always maxed out at either Very High or Enthusiast levels when available.

3dmark06, 3dVantage, SiSandra 2009, Everest,CPU-Z and many other tools and utilities were used in the benchmarking process

Specifications
Phenom II X3 720 BE - Model #  HDZ720WFK3DGI; PIB:  HDZ720WFGIBOX
L1 Cache Sizes: 64K of L1 instruction and 64K of L1 data cache per core (512KB total L1 per processor)
L2 Cache Sizes: 512KB of L2 data cache per core (1.5MB total L2 per processor for X3s)
L3 Cache Size: 6MB
Total Cache Size: 8MB
Memory Controller Type: Integrated 128-bit wide memory controller
Memory Controller Speed: Up to 2.0GHz with Dual Dynamic Power Management
Types of Memory Supported: Support for unregistered DIMMs up to PC2 8500 (DDR2-1066MHz) -AND- PC3 (DDR3-1333MHz)
HyperTransport 3.0 Link: One 16-bit/16-bit link @ up to 4.0GHz full duplex (2.0GHz x2)
Total Processor Bandwidth: Up to 33.1 GB/s total bandwidth
Packaging: Socket AM3 938-pin organic micro pin grid array (micro-PGA) compatible with a AM2+ 940 pin socket motherboard.

Fab location: Fab 36 wafer fabrication facilities in Dresden, Germany
Process Technology: 45-nanometer DSL SOI (silicon-on-insulator) technology
Approximate Transistor count: ~ 758 million (45nm)
Approximate Die Size: 258 mm2 (45nm)
Max Ambient Case Temp / X3 CPUs: 73 Celsius
Max TDP: 95 Watts

---
Conclusions
AMD has outsmarted Intel with this kick ass unlocked CPU.  The price point for the value is excellent.  The budget conscious PC enthusiasts and even entry level hard core gamers can take this to the next level and truly push the new AM3 to its limits with out much effort.  As demonstrated in PCWizKid's video review, the Phenom II X3 720 is an excellent alternative to many Intel Core 2 and even Quad Core CPU's at a much lower price.  The fact that I was able to reuse my existing Asus M3A78-T AM2+ motherboard saved over $100, the ability to later use DDR3 and the low temperatures and power consumption makes this CPU a true well rounded winner for not only today's gaming rigs but also tomorrows needs as a value leader for the performance it offers.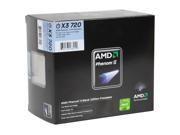 Latest pricing of the AMD Phenom II X3 720 2.8GHz Socket AM3 95W Triple-Core Black Processor
Cant find what you need here? Post your question here on PCWizKid's Forum