PCWizKid has reviewed earlier the Phenom II X4 955 BE, today we review the latest Flagship model from AMD, the Phenom II X4 965 BE CPU.  This unlocked black edition has a default core speed of 3.4Ghz with a multiplier at x17 which promises greater overclocking capabilities.   Unlike the Phenom II X4 955 version which is a 125Watt CPU this one is 140Watts so keep that in mind if overclocking, it will demand more power and get hotter.  Like with all AM3 socket CPU's a major advantage of owning a previous AM2+ board and DDR2 ram gives you the possible option to reusing the same board and memory with this AM3 CPU.  You should always check your manufacturers website for the AM2 board to see if it supports the AM3 CPU or if it requires a BIOS update (which in most cases they do need one) for the AM3 CPU to be recognized properly.  This can save you hundreds of dollars in having to buy a AM3 board and DDR3.

Test System
For this review, PCWizKid will be using the latest premium PC hardware components on the market.

- Asus M4A785TD EVO AM3 Motherboard
- Tuniq TX-3 Thermal Grease (Recommended over the default stock included material)
- 4GB DDR3 Patriot G-Series
- Diamond ATI Radeon HD4890 XOC Video Card
- Western digital Caviar Blue 500GB SATA Hard drive
- Cooler Master Gladiator 600 Mid Tower Case
- SilverStone NT06 CPU Cooler and Fan
- OCZ Mod Xtreme 700W Power Supply
- Windows 7 Ultimate 64bit Edition
(Room Temperature 20C Celsius)
Video Review
NOTES:
- All tests are performed at 1280x1024 and 1680x1050 resolution for consistency in results and comparisons with other system tests.  These are benchmarking resolutions which is commonly used.

Game settings for benchmarks are always maxed out AA at either Very High or Enthusiast levels when available.

3dmark06, 3dVantage, SiSandra 2009, Everest,CPU-Z , OCCT, Prime95 and many other tools and utilities were used in the benchmarking process and were repeated and ran many times to validate results.
AMD Overdrive 3.0 tool is one more utility in the toolbox PCWizKid has used in getting the job done when it comes to
stability testing and overclocking.  Nearly everything you can do in the BIOS can be done in the Overdrive tool making it convenient. Download it here for free.
Specifications
Processor Frequency & L3 Cache:

X4 965 Black Edition = 3.4 GHz / 6 MB L3

X4 955 Black Edition = 3.2 GHz / 6 MB L3

X4 945 = 3.0 GHz / 4 MB L3

L1 Cache Sizes: 64K of L1 instruction and 64K of L1 data cache per core (512KB total L1 per processor)
L2 Cache Sizes: 512KB of L2 data cache per core (2MB total L2 per processor)
L3 Cache Size: 6MB (shared between cores)
Total Cache (L2+L3): 8MB
Memory Controller Type:ype: Integrated 128-bit wide memory controller*
Memory Controller Speed: Up to 2.0GHz with Dual Dynamic Power Management
Types of Memory Supported:

PC2-8500 / DDR2-1066MHz

PC3-10600 / DDR3-1333MHz**

HyperTransport 3.0 Link: One 16-bit/16-bit link @ up to 4.0GHz full duplex (2.0GHz x2)
Total Processor Bandwidth: Up to 37.3 GB/s total bandwidth
Packaging: Socket AM3 938-pin organic micro pin grid array (micro-PGA)
Fab location: FGlobal Foundaries Fab 1 Module 1 in Dresden, Germany (Formerly AMD Fab 36)
Process Technology: 45-nanometer DSL SOI (silicon-on-insulator) technology
Approximate Transistor count: ~ 758 million (45nm)
Approximate Die Size: 258 mm² (45nm)
Max Temp: 62° Celsius
Nominal Voltage: 0.850 - 1.5 Volts
Max TDP: 140 Watts
Code Name: Deneb
---
Conclusions
One thing I noticed with the Phenom II X4 965, it does get hot fast if you overclock or run it at 100% constantly compared to other lower wattage CPU's from AMD.  Just make sure you have a CPU Cooler that is rated to handle a 140Watt CPU or higher such as the Cooler Master V8 or the V10 I reviewed earlier.  Other than that the benefits of this CPU are great, I do hope that the price will come down since the Phenom II X4 955 is about $50 less and the difference is minimal compared to my previous review with the 955.  If you want the latest from AMD this is it for now and it works wonders if you pair it up with a ATI Radeon HD4890.  There will not be a single game out there you can run at full blown enthusiast levels.  A real must have for hard core overclockers looking to use watercooling and break the 4Ghz barrier.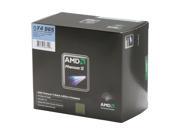 Click here for the latest pricing on the AMD Phenom II X4 965 Black Edition 3.4GHz CPU