The ZT series is the superb choice for performance and power users who need solid, reliable PSU. With a completely 100% modular design, ZT Series keeps your internal case environment organized by eliminating wire clutter and improves airflow by using only the cables you require. Kept supremely cool with a load-controlled 140mm fan, the OCZ ZT Series PSU was engineered to be ultra-quiet by eliminating distracting noises from your PC when working or gaming. With an 80-Plus Bronze Certification featuring up to 85% efficiency under typical load environments, this power supply remains rock solid and stable.
Today PCWizKid takes a look at the OCZ ZT 750 Watt version, although you can also get it in 550W and 650W.
Specifications
Single +12V rail for efficient power distribution

Heavy-duty protection circuitry

Fully Modular Cabling System

80-Plus Bronze Certified (85% efficient at typical load)

140mm ball-bearing fan

Dimensions: 150 x 86 x 175mm (W x L x H)

Rated at 45°C ambient

Premium 105°C electrolytic capacitors

Erp compliant, low power usage in standby mode

Active PFC

ATX 12V 2.2 Compliant

MTBF: 100,000 hours

5-year warranty

1 x 20+4-pin ATX

2 x 4+4-pin ESP/12V CPU

4 x 6+2-pin PCI-E

6 x 4-pin Peripheral

9 x 5-pin SATA

1 x Floppy
Video Review
Conclusion
If your in the market for an affordable PSU, want a modular design and want the best bang for your bucks, the OCZ ZT series does the job nicely. The
Amps on the single 12 rail is impressive, you could peak to 744 Watts on just that alone.  Under heavy loads you can hear the PSU fan however it did not bother PCWizKid, in Idle status is silent. The sleaved cabling is overall lengthy enough and it should otherwise not be an issue to reach any of the components even with a big-tower chassis and are labeled nicely.  While PCWizKid prefers 80+ Gold efficiency PSU's, theis Bronze version does the job for the price point.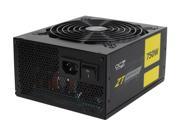 Latest price on the OCZ ZT Series 750W Fully-Modular High Performance Power Supply compatible with Intel and AMD