PCWizKid has gone through many USB Stick, flash drives, thumb drives or however you want to spell it.  The range and brands of usb flash drives out there is very big, however there are only a few brands that stand out and can deliver performance.  Today we review the OCZ Rally2 Turbo - 8GB Dual Channel USB Flash Drive which promises standout above the rest of the crowd.  OCZ is well known for their quality DDR memory so lets take a closer look and see how this holds up.

Test System - Laptop

- Running Windows XP Pro SP3
- Processor  x86 Family 6 Model 15 Stepping 6 Genuine Intel ~2161 Mhz (Intel Core 2 Duo Centrino)
- 120GB SATA HD @5400 RPM
- 2GB system memory
Video Review
Specifications

High Speed USB 2.0 Certified

True Plug and Play (Compatible with MAC OS X)

Dual Channel Technology

Available in 4GB and 8GB capacities

Dimensions: 2 5/8"(L) x 5/8"(W)

Aluminum Chassis

Orange LED Status Light

Lifetime Warranty

Accessories
Lanyard

Blazing Speed

Up to 35MB/s (read), 30MB/s (write)



Conclusion - Editor's Choice Recommended

OCZ's Rally2 Turbo has kicked it up a notch for those looking to get performance and speed when transferring files.  There is no
doubt that this is the fastest 8GB Flash Drive I have tested so far, with upto triple the speed differences compared with other brands USB sticks.  As demonstrated in the transfer rates did meet expectations and proved that OCZ stands for a terrific  provider of DDR memory.  The sleek black aluminum finish feels and look great making this a well rounded choice for the price point.  Add on top of that the limited lifetime warranty OCZ provides and this makes your choice for a USB drive a no brainer.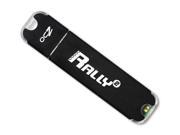 Click here for the latest pricing on the OCZ RALLY2 8GB High Performance Dual Channel Flash Drive (USB2.0 Portable)