PCWizKid has gone through many mice over the years.  One could say that its a natural occurrence that we go through a new mouse once every few years.  However if your constantly using the mouse for more that just surfing the net, you need something like the OCZ Behemoth Laser Gaming Mouse.  The intent of a gaming mouse goes beyond the average mouse and usually provides much more precision , accuracy and response to movement.  The fact that gaming mouse have more buttons by default indicates how it caters to those seeking to maximize their experience when using a mouse, specially if your into PC Gaming.
Today we have the opportunity to take a look at another side of the OCZ Technology product line with this gaming mouse.  OCZ is mostly known for their quality computer memory, however OCZ also excels in their quality power supplies, solid state drives and PC cooling products.  Lets see if the OCZ Behemoth Laser Gaming Mouse keeps the reputation and follows through.
Specifications
2-Way Scroll wheel

Buttons: Std. 5 + 1 dpi Toggle Switch

Hot Key: 1 Mode Switch

Dimensions: (L)118mm x (W)71mm x (H)44mm

Weight: up to 159g (adjustable)

DPI: 800-1600-2400-3200

4-way changing LED display

Tracking speed: 60IPS

Acceleration: 50G

MCU: On board Memory

Programmable Functions for Keyboard Command saving

18g Customizable weights

Interface: USB 2.0 / Full speed

Includes Customization Software

2-year warranty
Special Features:       
Programmable buttons      
LED display for dpi change      
Unique large ergonomic form factor for ultimate comfort      
Adjustable cable positioning for ultimate gaming flexibility      
5 Customizable weights (23g)      
Mode change button to maximize macro configurations      
Black rubberized surface for a no-slip grip
Video Review
Conclusion
As demonstrated in the video review the key aspect of the OCZ Behemoth is its flexibility , accuracy and ergonomics.

PCWizKid was truly impressed with the comfortable styling and smoothness all round.  The ability to record the macros and store configuration settings on board is a big plus for those hardcore gamers going to LAN parties and looking to quickly get into the game hassle free.  PCWizKid gives this a editors choice recommendation as the OCZ Behemoth Laser Gaming Mouse did indeed live up to expectations and proved to be a great peripheral any gamer should not be without.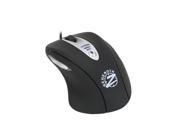 Click here for the latest pricing on the OCZ Technology Behemoth Laser Gaming Mouse