PCWizKid takes a close look at the O
CZ Agility Series - 60GB SATA II SSD. The OCZ Agility series SSD is one of latest breakthroughs in SSD technology, including controller design, fast read/write speeds and a huge 64MB of onboard cache.  Solid state drives are hear to stay and essentially are the future now.  Getting an SSD drive for your laptop of desktop is about getting a major boost in performance which is noticeable without a doubt.  This is why SSD drivers in general are more expensive than the old generation hard drives that use moving parts, are slower, heavy and consume more power.  The OCZ Agility lineup of SSD drives takes us to the next level of high performance transfer speeds.  The OCZ Agility is ranked in the middle of the pack of OCZ SSD drives that they offer.  However the specifications the drive we are testing are impressive for a mainstream SSD drive.
Specifications
| | |
| --- | --- |
| | 60GB (also available in 30GB (32), 120GB (128) and 250GB (256) capacities* |
| | 64MB Onboard Cache |
| | Seek Time: <.1ms |
| | Slim 2.5" Design |
| | 99.8 x 69.63 x 9.3mm |
| | Lightweight 77g |
| | Operating Temp: 0C ~ 70C |
| | Storage Temp: -45C ~ +85C |
| | Low Power Consumption: 2W in operation, .5W in stand by |
| | Shock Resistant 1500G |
| | Vibration: 20G. Peak, 10 ~ 20KHz |
| | RAID Support |
| | MTBF 1.5 million hours |
| | 3-Year Warranty |
PCWizKid's Test System
For our test system we are using the latest desktop PC hardware that can embrace the OCZ Agility SSD capabilities to the max.
Our test strategy involves testing the OCZ Agility SSD drive as a boot drive for the Windows 7 operating system and compare it to a mainstream hard drives with various tests.
Video Review
Conclusion

As demonstrated in PCWizKid's video review, the OCZ Agility Series SSD are easily one of the fastest mainstream SSD drives which
for the price point can rival more expensive Intel brand SSD's.  Lets not forget that the advantages of low power consumption, shock resistance and small size make this a very desirable alternative. There is no doubt that this OCZ Agility SSD outperforms any hard drive no matter what you put up against it.  If your all about having the fastest operating system and boot load times for your applications and games, or even upgrade and your laptop PCWizKid definitely recommends this fast and silent killer drive.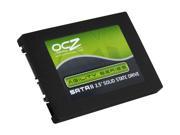 Click here for the latest pricing on the OCZ Agility Series OCZSSD2-1AGT60G 2.5" Solid State Drive (SSD)