Lately PCWizKid has been able to review various boards from Jetway.  Today we look at a micro ATX form factor board for AMD's AM3 CPU's, the Jetway MA3-785GP.  Unlike other Jetway boards I have reviewed this one is a mainstream budget board.


Test System
- Phenom II X2 550 @3.5Ghz
- 4GB DDR3 OCZ AMD Platinum Edition Memory
- OCZ ModXstream 700Watt PSU
- Silverstone SG03 Mini Tower Case
- 500GB Seagate SATA Hard Drive
Video Review
Specifications
CPU

Supports AMD Socket AM3

AMD Socket AM3 Series processors

Chipset

AMD™ 785G Chipset + AMD™SB710 Chipset

Hyper Transport Bus

HT 3.0

Integrated Graphics Processor

ATI Radeon HD 4200(Support Microsoft DX 10.1)

Memory

2 * 240-pin DDR3 DIMM slots

Supports DDR3 1333/1066 non-ECC ,un-buffered memory

Max.8GB

Expansion Slots

2 * 32-bit PCI Slots

1 * PCI Express 2.0 x16 slot @16-lane

Storage

AMD™SB710 Southbridge Chipset :

6 * Serial ATA2 3Gb/s connectors

Supports HDDs with RAID 0, 1,JBOD Functions

1 * Ultra DMA 133 / 100 / 66 IDE Connector

Audio

Realtek ALC662 HD Audio CODEC with 6-Channel

Ethernet LAN

Realtek RTL8111DL PCI Express Gigabit LAN

USB

Embedded 8 * USB 2.0/1.1

Special Features

Advanced Power Design that supports the latest Socket-AM2+ K10 CPU

Rear Panel I / O

4 * USB 2.0/1.1 ports

1 * PS/2 mouse port

1 * PS/2 keyboard port

1 * VGA port & 1 * HDMI port & 1 * DVI port

1 * RJ-45 port

1 * SPDIF_Out port

1 * Audio I / O ports

Internal I / O

2 * USB 2.0/1.1 headers for 4 USB 2.0/1.1 ports

CPU / Chassis Fan connectors

1 * 8-pin ATX 12V Power connector

1 * 24-pin ATX Power connector

1 * COM header

CD / AUX Audio in

Front panel audio connector

1 *HDMI_SPDIF_OUT header

BIOS

Award 8MB DIP Flash ROM
Conclusion
The MA3-785GP turns out to be an interesting little board with support and features for the budget PC.  Definitely while not a high
end expensive board it has the support for the latest mainstream AM3 CPU's such as the Phenom II X2 550 tested or the latest Athlon II's making this a good choice if you want a basic board for the casual average user.  If you are looking to get more than 5.1 channel surround sound the this board would not be for you since it has a limit of 6 channels (5.1), however it was very nice to see that a SPDIF optical output was included .   While the BIOS features were capable of allowing overclocking, they options could be improved for more advanced users seeking to tweak their system even further.  Overall Jetway hsa made a good product for the price point of under $80 USD.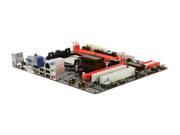 Click here for the latest pricing on the JetWay JMA3-785GP-LF Micro ATX AMD Motherboard