Cooler Master has released an affordable full tower chassis for PC enthusiasts that are looking for a feature packed case.

PCWizKid reviews the HAF 932
(High Air Flow) full tower chassis in this video walkthrough of its features.  Whether you are building a performance gaming rig or a server the Cooler Master
brand is all about keeping your hardware components cool with their thermal products.
---
PCWizKid's test system specifications
- Kingston HyperX 4GB DDR2 1066 (Diamond recommends 1GB minimum)
- CPU cooler - Core-Contact Freezer from Sunbeamtech
- Ambient room temperature is 20C or 68F
---
Feature summary
Model

Available Color

Dimension (W/H/D)

(W)9.0" X (H)21.5" X (D)22.7"

Weight

Motherboards

Micro - ATX / ATX / E-ATX

5.25" Drive Bay

6 (without the use of exposed 3.5" drive bay)

3.5" Drive Bay

5 hidden 1 exposed (converted from one 5.25" drive bay)

Cooling System

Front: 230 x 30 mm red LED fan x 1, 700 rpm, 19 dBa

Side: 230 x 30 mm standard fan x 1, 700 rpm, 19 dBa (support 120 x 25 fan x 4)

Top: 230 x 30 mm standard fan x 1, 700 rpm, 19 dBa (support 120 mm fan x 3 or 120 mm x 1 + 230 x 30 mm x 1)

Rear: 140 x 25 mm standard fan x 1, 1200 rpm, 17 dBa (support 120 mm fan x 1)

Power Supply

Standard ATX PS2 / EPS 12V (optional)

I/O Panel


USB 2.0 x 4, IEEE1394a x 1, eSATA x 1, Mic x 1, Audio x 1
Tool-less design with finger-press buttons for quickly maintaining or upgrading 5.25" drive devices

Removable anti-vibration HDD racks

Cable management routing system


Easy access to liquid coolant fill port

Retaining holes in the rear is perfect for liquid cooling kit

120mm x2 or x3 radiator can be mounted inside the top of the case

Three 120x25mm fans can be mounted on the top for excellent air exhaust

Mesh is on all sides but 1 which provides high air flow capability


Independent air intake designed for bottom-mounted PSU or installation of two 120mm fans

CPU Cooler access hole on motherboard tray or easy install/replacement
---
The HAF 932 delivers great performance with its outstanding thermal and low acoustics. The stock fans that come with it provide more
than enough air flow without sacrifice of noise which is music to my ears.
The room for expansion and ability to add more fans, a decent amount of drives, motherboard sizes and the innovative tool less design makes this case a top notch chassis for any hard core PC Gamer. However, not having a removable motherboard tray for setting up outside of the case as well as lack of dust filters take 1 point off the overall score which is still excellent.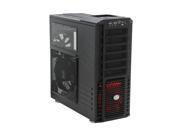 Get the latest pricing on the Cooler Master HAF 932 Computer Case