PCWizKid has been using more and more the AM3 CPU's lately and specially with DDR3 memory.  Finding a good AM3 + DDR3 memory motherboard with the most features as possble can be easier than it looks, Gigabyte has released a premium AM3 motherboard based on the 790FX Northbridge Shipset, the MA790FXT-UD5P .  Unlike other previous models of Gigabyte AM3 boards and its competitors the UD5P promisses to deliver quality and quantity to make it stand out above the crowd.
In order to review this board to its fullest, PCWizKid has put together the latest TOP NOTCH parts you can get for making this board work hard for its price point.  The board being a little higher in price than average boards is for good reason.  Watch PCWizKid's video review for a detailed wakthrough of the board and its features.
Test System - AMD Dragon System

- Phenom II X4 955 Overclocked to 3.83 Ghz vCore 1.5v - Bus speed 202Mhz x 19 Multiplier. 
- OCZ DDR3 12800 Platinum AMD Edition (Overclocked, watch the video review for details)
- Two Diamond ATI Radeon HD4890 Overclocked at 950Mhz Core , 1010Mhz Memory clocks in Crossfire
- WD Caviar Blue SATAII HDD 500GB
- Tuniq Ripper 1000 Watt Power Supply
- Cooler Master Scout Case
- Cooler Master V10 CPU Cooler
- Windows 7 Ultimate 64bit edition
- Ambient room temperature 20C or 68F
Video Review
Specifications
AMD 790FX + SB750 Chipset
Ultra Durable 3 Technology with copper cooled quality for lower working temperature

Revolution energy saving design with Easy Energy Saver technology

Supports socket AM3 45nm AMD Phenom II series processors

Advanced 8+2 power phase design for 45nm CPU highly efficiency support

Dual Channel DDR3 1666+ for remarkable system performance

2 PCI-E 2.0 x16 interface with ATI CrossFireX support for ultimate graphics performance

2 Gigabit Ethernet LAN with Teaming functionality

Power/reset/Clr CMOS onboard button for power users

Blu-ray playback supported by high quality 106dB SNR ALC889A HD audio

Supports Dolby Home Theater audio to enjoy a rich surround sound experience

Patented DualBIOS with dual hardware BIOS protection
Conclusion
Gigabyte has created a rock solid AM3 board that offers a lot of features for your hard earned cash. If you are a hardcore gamer,
the LAN teaming feature will let you have an edge over your online opponents, and if you are an enthusiast, overclocking is not a problem in this reliable and stable board, rest asured it will remain cool and intact with the Ultra Durable 3 design. Whether you are designing a new system or looking for a nice board for the latest AM3 CPU and DDR3 memory, you will not disapointed with the Gigabyte MA790FXT-UD5P motherboard. PCWizKid recommends it.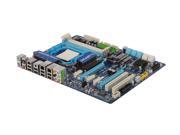 Click here for the latest pricing on the GIGABYTE GA-MA790FXT-UD5P ATX DDR3 AMD Motherboard