PCWizKid prides always reviewing the latest PC Hardware and today Diamond Multimedia offer the latest ATI Radeon single GPU Video Card on the market, the HD4890 XOC (The Xtreme Overclocked Version).
On first impression when looking at a HD4890 you would either think its a mini version of the 4870x2 or a beafed up 4870 due to the default reference cooling package it uses which is similiar in design.  However looking closer at the board you will notice small differences.  The good thing is the card length is that of a 4870 and not of a 4870x2.  One thing to note you will need two PCIe power connectors and a recommended 600W PSU.
The Review
PCWizKid has put together a detailed video walkthrough reviewing the card.  Watch the review for details on the card and benchmark results
Watch PCWizKid's detailed video review of the Diamond Radeon HD 4890
TEST SYSTEM SPECS
PCWizKid's Test system uses the latest AMD Phenom II processors, AMD 790 chipset based motherboards, in combination with the ATI Radeaon 4800 series cards.  This configuration is referred to as the "Dragon" platform.
CPU - Phenom II 810 X4, overclocked at 3.3Ghz
Motherboard - Jetway HA07-Ultra 790GX
HDD - Seagate 500GB v12 SATA HDD
PSU - In Win 850W Commando
CPU Cooler - GlacialTech UFO 51
Memory - 2x2GB Patriot Extreme Viper DDR2 (5-5-5-15)
Mid Tower Case- Cooler Master Sniper

- Diamond HD4890 XOC

Video card was overclocked even further! to 975Mhz Core clock and 1100Mhz (4400Mhz Effectively) memory clock

The ATI Catalyst drivers version used was version 9.4

ATI Overdrive was tweaked manually and the fan was set to at least 40 speed ~ 2700 rpm


DirectX 10.1 was used on Windows 7 Ultimate Edition 64bit - Build 7000 fully updated.
- All tests are performed at 1280x1024 and 1680x1050 resolution for consistency in results and comparisons with other tests systems.

Game settings for benchmarks are always maxed out at either Very High or Enthusiast levels when available.

Games used in benchmarking are: Crysis Warehead, Mass Effect, Left 4 Dead, Bioshock, COD4, Frontlines FOW, Devil May Cry 4 bench


3dmark06, 3dVantage, SiSandra 2009, Everest,GPU-Z  and ATI Overdrive were tools and utilities used in the benchmarking process which was repeated several times to ensure accurate results
Graphics Card specifrications
[SKU : 4890PE51GXOC] DIAMOND ATI Radeon™ HD 4890 XOC PCIE 1024MB GDDR5 Video Card

Performance

GPU :

HD 4890

ASIC Core :

RV 790 XT

Core Clock :

925 MHz

GPU Architecture :

BUS :

PCI Express x16

Ports :

2 Dual-Link DVI,Video Out [S-Video, Composite, HDTV]

Cooling :

Active - FanCooler

MFG Process :

55 nm

Transistor Count :

956 million

Stream Processors :

800

Memory

Memory Clock :

1050 MHz

Memory Configuration :

2 M x 32 x 16

Memory Type :

GDDR5

Memory Bandwidth :

124.8 GB/sec

Memory Size :

1024MB

Memory Interface :

256-Bit

RAMDAC :

Dual 400MHz

Video Quality

CrossFire :

CrossFire X

QuadFire Support :

YES

Direct-X :

8.0,9.0,10.0-10.1

Open GL :

OpenGL 2.0

Vide Acceleration :

MPEG-2, MPEG-4, DivX, WMV9, VC-1, and H.264

Max Resolution Analog :

2048 X 1536

Max Resolution Digital :

2560 x 1600

HDR F.Point Rendering :

128

HDR Integer :

16-bit integer or floating point

Pixel Operation :

165-MHz pixel clock

Standard Slot Solution :

DOUBLE

Anti Aliasing Modes :

Multi-sample anti-aliasing (2, 4, or 8 samples per pixel) Up to 24x Custom Filter Anti-Aliasing (CFAA) for improved quality Adaptive super-sampling and multi-sampling Gamma correct Super AA (ATI CrossFireX™ configurations only) All anti-aliasing features compatible with HDR rendering

Antisotropic Modes :

2x/4x/8x/16x high quality adaptive anisotropic filtering modes (up to 128 taps per pixel)

Texture Support :

2x/4x/8x/16x high quality adaptive anisotropic filtering modes (up to 128 taps per pixel) 128-bit floating point HDR texture filtering sRGB filtering (gamma/degamma) Percentage Closer Filtering (PCF) Depth & stencil texture (DST) format support Shared exponent HDR (RGBE 9:9:9:5) texture format support

Display Support

HDTV :

YES

HDMI :

HDMI 1.3 / HDMI Ready

HDMI MODE :

Dongle

Native Display Support :

18-, 24-, and 30-bit

3D Resolution :

2560x1600

TV-OUT Resolution :

720

Dual Display support :

Hydravision 4

Holywood Q.VIDEO :

YES
Hardware Requirements
A free PCI Express® slot at X16 is required.  This is the main lane the graphics would be installed.  slot available on the motherboard 500 Watt or greater power supply with two 75W 6-pin PCI Express® power connectors recommended (600 Watt and four 6-pin connectors for ATI CrossFireX™ technology in dual mode) Certified power supplies are recommended. Refer to http://ati.amd.com/certifiedPSU for a list of Certified products For more details you can visit Diamond Multimedia here. Since this is a the lates in the 4800 generation graphics card you are advised to have a CPU which is at least 2.4Ghz and a system with at least 1GB of RAM.
---
Conclusions
For the price point the Diamond HD4890 XOC gives those hard core gamers and PC enthusiasts the extra kick in performance which surpasses easily the HD4870 or the nVidia GTX 260 without the cost of a dual GPU card.  Those looking for one of the fastest single GPU and lower power consumption cards on the planet and are not looking for a dual GPU can rest assured that the capabilities of this xtreme overclockable edition of the HD4890 from Diamond Multimedia rivals the nVidia GTX275 with a big punch.  The lower temperature readings on full load were terrific and as shown in the video review the results were terrific.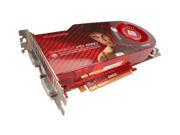 Click here for the latest pricing on the DIAMOND Radeon HD 4890 4890PE51GSB Video Card