PCWizKid is a PC enthusiast. Building PC's and testing them is one of the many things enjoyed the most about computers.   Part of being a PC Performance Geek involves tweaking and modding your components to maximize performance.  When it comes to overclocking or keeping your CPU temperatures down to a minimum a liquid cooling system is the avenue to take.  Today PCWizKid takes a close look at the CoolIT ECO Advanced Liquid Cooling system for CPU's.
The CoolIT ECO A.L.C. is a self-contained CPU water cooler that requires no maintenance and is just as easy to install.  Best part about the install is that its a one piece system that can be installed in a few minutes!  With a 2 year warranty CoolIT stands by their product and has made a low profile innovative solution that practically allows a novice user to install it with little effort.  It comes ready for Intel CPU's, supporting the last Core i3,i5 and i7's as well as ALL the AM2,AM2+ and AM3 CPU's.  PCWizKid shows you how to install it and reviews its performance on the latest AMD Flagship CPU the Phenom II X6 1090T.
Specifications
CoolIT CPU FHE (Fluid Heat Exchanger)
Copper Micro-Channel
Universal Retention System
Out of the box support provided
for Intel 775, 1156, 1366 and
AMD AM2, AM2+, AM3 sockets.
CoolIT Proprietary Pump
Quiet, compact, long life CFF1 pump
Ceramic bearing
Life Cycle: 50,000 Hours MTTF
CoolIT Coolant
CoolIT Systems low toxicity with anticorrosion/
anti fungal additives
CoolIT Radiator
Custom engineered for low noise high heat dissipation
CoolIT Fan
High reliability, Quiet 12V
Speed: 1800 RPM MAX
CoolIT CPU Thermal Grease
CoolIT Systems Pro A.T.C.
(Advanced Thermal Compound)
CoolIT 2 Year Manufacturer Warranty
PCWizKid's Test System
The latest PC hardware components have been put together in a real world scenario.  PCWizKid build a new 2010 AMD "Leo" platform gaming PC to test the CoolIT ECO.  The system consists of the following high end parts:
- AMD Phenom II X6 1090T CPU @ 3.2Ghz to 4Ghz overclocked.
- Asus Crosshair IV Formula 890FX Motherboard
- OCZ Black Edition 4GB DDR3 Memory - 1600Mhz at 8-8-8-24 Timings
- PowerColor ATI Radeon HD5870 Graphics Card
- Raidmax Monster 1000 Watt Power Supply
- Kingston V Series 128 GB SSD
- Cooler Master HAF 922 Mid tower Case
- Windows 7 Ultimate 64bit

Note: Testing is done at a room temperature of 20C Celcius.
Video Review
Conclusion
As seen in PCWizKid's video review the pro's  in using a liquid cooling system instead of an air cooler are evident.  The CoolIT ECO
does spectacular with the latest AMD 6-Core CPU over regular AIR Cooling.  Add another fan to the radiator and wow! PC enthusiasts overclocking their gaming rigs need not worry about overheating with this system.   The flexibility and ease to install it makes it a great choice over other more complex water cooling solutions, and for the price point today this is a great alternative over a AIR only cooler heatsink for sure!  The pump was very quiet and the fan runs nicely adjusting RPM to the demand of the CPU as we overclocked to 4Ghz.  A terrific innovative solution form CoolIT Systems which PCWizKid gived a "Recommend Award".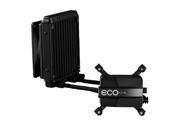 Click here for the latest pricing on the CoolIT SYSTEMS ECO-R120 Water Cooler