Thinking about building a HTPC?  Perhaps your not happy with the default factory stock cooler that came with your CPU?  Is your current CPU cooler to big or too noisy?  These are reasons why low profile cpu cooling solutions are needed and Cooler Master has released just that with the Vortex Plus.   The CM Vortex Plus gives you the ability to tuck away in your case an effective cooling solution that is meant to be better than your stock cooler.
The CM Vortex Plus is a cooler that uses a composite design with an aluminum heat-sink block and fins with four 6mm copper heat pipes used to carry the thermal load from the CPU contact area to the fin array.  This design is also know as the down draft design that makes use of heat pipe direct contact to cool down the CPU.  The PWM fan used by Cooler Master on the Vortex Plus is 92mm in diameter, makes use of a sleeve bearing and delivers anywhere from 16 to 55 C.F.M.
Specifications
Model

RR-VTPS-28PK-R1

CPU Socket
Intel Socket LGA1366 / 1156 / 775
AMD Socket AM3/AM2/940/939/754
CPU Support
Intel LGA 1366 / 1156 / 775 Socket CPU
- Core™ i7 Extreme
- Core™ i7
- Core™ i5
- Core™ i3
- Core™2 Extreme / Quad / Duo
- Pentium
- Celeron
AMD AM3 / AM2 / 940 / 939 / 754 Socket CPU
- Phenom™ II X4 / X3 / X2
- Phenom™ X4 / X3
- Athlon™ II X4 / X3 / X2
- Athlon™ X2
- Athlon™
- Sempron™
(For the latest CPU support information,
please visit our website.)
Dimension

116 x 100 x 84 mm (4.6 x 3.9 x 3.3 inch)

Weight

445g (1 lbs)

Heat Sink Material

Aluminum fins + 4 heatpipes

Fan Dimension

92 x 92 x 25 mm (3.6 x 3.6 x 1 inch)

Fan Speed

800 – 2800 RPM (PWM)

Fan Airflow

15.7 – 54.8 CFM

Fan Air Pressure

0.35-4.27 mm H2O

Bearing Type

Long life sleeve bearing

Fan Life Expectancy

40,000 hours

Fan Noise Level (dB-A)

17 – 35 dBA

Connector

4-pin

UPC Code

884102008511
PCWizKid's HTPC Test System
- AMD Athlon II X4 610e CPU
- Jetway MA3785GP AM3 MicroATX Motherboard
- ATI HD5570 Graphics Card low profile graphics card
- 2GB DDR3 Kingston HyperX Memory @1333Mhz
- SilverStone SG03 Mini Tower Case
- OCZ Mod Extreme PSU
- Windows 7 Ultimate 64bit Edition
- ATI Catalyst 10.3 Drivers
- (Room Temperature 21C Celsius)
Video Review
Conclusion
Low temperatures, Low profile, low noise and low price! What more can you ask for from an exceptionally high efficient little
cooler that delivers.  This is the type of CPU Cooler you want to keep a case cool and quiet using for example AMD's low energy CPU's or Intel's Core i3 or i5 energy saving processors.  PCWizKid's test system proved to be a good combination of hardware that the Cooler Master Vortex Plus had no problems dealing with.  As seen in the video review temperatures were well below the limits of the CPU's maximum.  The quick clip on style installation made it easy to install replacing the stock cooler that we had and we were up and running in no time.  PCWizKid recommends the CM Vortex Plus as a Editors choice for a low profile CPU Cooling solution.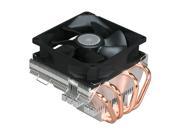 Click here for the latest pricing on the COOLER MASTER RR-VTPS-28PK-R CPU Cooler