Cooler Master has released a stealth looking mid tower case called the Sniper.  It is part of the Storm series of gaming hardware which caters to hard core gamers and

PC enthusiasts

.  PCWizKid is very excited to check this black tower inside out and review it for you.

PCWizKid received the model SGC-6000-KKN1-GP (with Blue LED Fans) mid tower chassis and has a detailed video walk through of its features for this review.  There is also an option for Red LED Fans which you can see on the Cooler Master Storm website here.



{youtube}wwtrXHXXstk{/youtube}
---
Feature Highlights
Tool-less design with finger-press buttons for quickly maintaining or upgrading 5.25" drive devices

Removable anti-vibration HDD racks


Cable management routing system

Fan Controller


4 retaining holes in the rear is perfect for liquid cooling kit options


120x240mm

radiator can be mounted inside the top of the case instead of the 200mm LED fan

One 200x30mm Fan or Two

120x25mm Fans can

be mounted on the

side panel (optional)


Mesh is on all sides but 1 which provides high air flow capability


Independent air intake designed for bottom-mounted PSU

CPU Cooler access hole on motherboard tray or easy install/replacement
UPDATE:
CM Storm Sniper™ Black Edition mesh version has been released also - the best gaming chassis in the world just got better, with an all black interior and 2.5" HDD/SSD support.
The new and improved Sniper Black Edition includes all the features and functionality of the original Sniper, and raises the bar by including an all-black interior coating, full 2.5" SSD support and three huge Storm Force 200mm 142CFM fans! Coupled with the features that gamers have learned to love, such as reinforced carrying handles, fan and light controls, and the patented StormGuard™ security solution
Model Number
SGC-6000-KKN1-GP

Available Color
Black
Material
Steel, ABS Plastic, Mesh bezel
Dimensions
(D)566.6 x (W)254.6 X (H)551 mm
(D)22.3 x (W)10 x (H)21.7 inch
Net Weight
10.6 kg / 23.42 lb
M/B Type
Micro-ATX/ATX
5.25" Drive Bay
5 Exposed (without the use of exposed 3.5 inch Drive Bay)
3.5" Drive Bay
5 Hidden
1 Exposed (converted from one 5.25 inch Drive Bay)
Cooling System

| | |
| --- | --- |
| Front: | 200x30mm Blue LED Fan x 1 (500 - 1000rpm, 17 - 23 dBA) |
| Top: | 200x30mm Blue LED Fan x 1 (500 - 1000rpm, 17 - 23 dBA) |
| | (can be swapped for two 120mm fans or 120x240mm Radiator) |
| Rear: | 120x25mm Standard Fan x 1 (1200rpm, 17 dBA) |
| | (can be swapped for 90mm fan or 80mm fan) |
| Bottom: | Supports 140mm Fan x 1 or 120mm Fan x 1 w/ Dust Filter (optional) |
| Side: | Supports 200x30mm Fan x 1 (optional) |
| | 120x25mm Fan x 2  (optional) |

Expansion Slots
Standard x 7, Special x 1
I/O Panel
USB2.0 x 4; IEEE1394 x 1; eSATA x 1; Mic x 1; HD Audio+AC'97 x 1
Power Supply
Standard ATX PS2 / EPS 12V (optional)
---
As PCWizKid mentioned in the video review we were impressed at not only the looks of the Sniper case from the outside but the inside as well.  This mid tower follows the footsteps of its big brother the the CM HAF 932 with plenty of room for drives,  expansion and cooling galore!  PC Gamers going to a LAN party for example would love this case easy to grip handle as well as its security features for peripherals which shows the attention to detail Cooler Master has provided.  Most important PCWizKid liked the cable management support and solid construction of this case which makes it a worthy investment since we are always upgrading and changing hardware and this makes it really easy to get into and modify.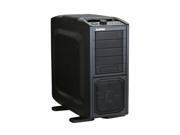 Click here for the latest pricing on the COOLER MASTER Storm Sniper SGC-6000-KKN1-GP Black Computer Case