Cooler Master has released another stealth looking mid tower case called the Scout.  It is part of the Storm series hard core gaming cases which caters to
PC enthusiasts
needs.  PCWizKid previously reviewed its brother case called the "Sniper".  This mid tower case is black inside out and comes with red LED Fans on the front and back however Cooler Master has blue fans avaialbe on their
Cooler Master Storm website here.


---
Feature Highlights
Tool-less design for quickly maintaining or upgrading 5.25" drive devices

Steel reinforced carrying handles


Removable anti-vibration HDD racks


Cable management routing system

LED Fan Controller


Two

120mm Fans can

be mounted on the

side panel (optional)


Mesh is on all sides but 1 which provides high air flow capability


Independent air intake designed for bottom-mounted PSU

CPU Cooler access hole on motherboard tray or easy install/replacement
Model
SGC-2000-KKN1-GP
Available Color
Black/All-Black Interior
Material
Steel, ABS Plastic, PC, Mesh bezel
Dimension
(D)489 x (W)219 X (H)495.5 mm
(D)19.2 x (W)8.6 x (H)19.5 inch
Weight
8.7 kg / 19.23 lbs
M/B Type
Micro-ATX/ATX
5.25" Drive Bay
5 Exposed (without the use of exposed 3.5 inch Drive Bay)
3.5" Drive Bay
5 Hidden
1 Exposed (converted from one 5.25 inch Drive Bay)
2.5" Drive Bay
1 Hidden (converted from one 3.5 inch Drive Bay)
Cooling System
Front: 140mm Red LED Fan x 1 (included)
Top: 40mm Fan x 1 (included) or 120mm Fan x 1 (optional)
Rear: 120mm Red LED Fan x 1 (included)
Side: Acrylic window; supports 120mm x 2 (optional)

Expansion Slots
Standard x 7, Special x 1
Power Supply
Standard ATX PS2 (optional)
Included Accessory
1.8 or 2.5 to 3.5 inch mounting bracket for SSD or HDD
---
PCWizKid is impressed at the quality and features of Cooler Master Storm series cases.  The Scout specifically looks compact compared to its brother the "Sniper" however it can pack everything in there except the kitchen sink (which in this case would be a water cooling radiator) .  As demonstrated in the video review  this neat, clean and functional case proves how Cooler Master excels in the design of hard core gamers and those looking to take their rig to a Lan Party.   The cooling options are positioned in the right spots for keeping components cool and the inside fresh.   The inside support for cable management is excellent and allowed a 1000 Watt non modular PSU to be installed and packed without issues. If your looking for a case thats not to big or too small, this one is just right!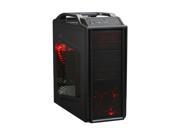 Click here for the latest pricing on the COOLER MASTER Storm Scout SGC-2000-KKN1-GP