PCWizKid puts to the test the Cooler Master Hyper N620.  This CPU cooler supports all current CPU sockets. Weighing s 847 grams and dimensions of 140.8 x 96.4 x 160.7 millimeters, its rather a larger cooler but for good reason. Two fans (800~2,000 rpm) blue LEDs sandwich the aluminum heatsink in the middle and provide a steady airflow. Heat is transferred to the aluminum fins via six copper heat pipes from the solid copper base that makes contact with the CPU.
The Hyper N620 is bigger, has faster fans and thus should keep things cooler than the Hyper N520 (which has 5 heatpipes and the Fans are not LED and a little slower).  For those using a CPU at stock values or casual overclocking the N520 would be a good choice, however the Hyper N620 has better potential for hard core overclockers looking to squeeze the most out of their CPU aswell as keeping the inside of the case looking hip and blue.

Test system
- Intel Core 2 Quad Q8400 @ 3.4Ghz (core voltage 1.344v)
- Windows 7 Ultimate RC 64bit Edition
- Gigabyte GA-P31-ES3G motherboard
- Kingston HyperX 2x1GB DDR2
- MSI nVidia GTX260 Lightning
- Cooler Master HAF 922 Mid tower Case
- Raidmax Monster 1000W Power Supply
- Western Digital Caviar Blue 500GB SATAII Drive
- LG 22x DVDRW Drive
- Room Temperature 20C
Video Review
Specifications
CPU Socket

Intel® Socket (LGA1366 / LGA775)
Socket (LGA 771 Skulltrail only)
AMD® Socket ( AM3 / AM2+ / AM2 / 940 / 939 / 754 )

CPU Support

Intel®
Corei7 / Core 2 Extreme / Core 2 Quad / Core 2 Duo / Pentium 4 / Pentium D / Celeron / Celeron D

AMD®
Phenom X4 Quad Core / Phenom X3 Triple Core / Athlon 64 x2 Dual Core / Athlon 64 FX / Athlon 64 / Sempron

Dimensions

140.8 x 96.4 x 160.7 mm ( L x W x H )

Weight

847g

Heat Sink Dimensions

140.8 x 50.8 x 158 mm

Heat Sink Material

Cu base, AI fin, 6 heatpipes

Heat Pipes Dimensions

Ø6 mm

Fan Dimension (W / H / D)

120x120x25 mm

Fan Speed

800~2000 R.P.M

Fan Airflow

83.6 CFM (Max)

Air pressure (mmH2O)

4.43 mmH2O (Total)

Bearing Type

Rifle Bearing

Fan Life Expectancy

40,000 hours

Fan Noise Level (dB-A)

16~28 dBA

Connector

4-Pin

Fan Control

PWM
Conclusion
As seen in the review PCWizKid got terrific results which proves that Cooler Master track record for CPU coolers is exceptional and
a trustworthy choice for anyone looking to keep their system cool.  Compared to the V8 and V10 from Cooler Master the Hyper N620 follows through with its capabilities to handle overclocking.  PCWizKid has used the Cooler Master Cooler with high end Phenom II's and using the Intel Core 2 Quad Q8400 has no different.  So if your in the market for a new AMD or Intel CPU and a cooler to go with it, for about $50 US you can get this terrific mainstream cooler that shines inside and out!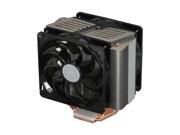 Click here for the latest pricing on the COOLER MASTER RR-B20-N620-GP Rifle CPU Cooler