Cooler Master has released a new mid tower case with a rough'n'tough attitude, the HAF 922.  This aggressive military looking style mid tower case is the younger brother of the full tower HAF 932 which PCWizKid reviewed earlier on.  Cooler Master's HAF (High Air Flow) series
are catered to enthusiasts
and hard core gamers looking to spice up their gaming rig and perhaps overclock components while keeping the inside sir cool and the outside appearance cool looking  as well.  This mid tower case is black on the outside only and comes with a huge 200mm red LED intake fan on the front however Cooler Master has blue fans available on their
Cooler Master Storm website here if your interested in modding the case further.

---
Feature Highlights
Model
RC-922M-KKN1-GP
Available Color
Black
Material
Steel + Plastic and Mesh Bezel
Dimension (W / H / D)
Main Unit: 253 x 502 x 563 mm / 10.0 x 19.7 x 22.2 inches
Box: 285 x 550 x 605 mm / 11.2 x 21.7 x 23.8 inches
Weight
8.7 / 10.9 kg ; 19.2 / 24.0 lbs
M/B Type
ATX / Micro-ATX
5.25" Drive Bay
5 Exposed (one could convert to 3.5" drive bay)
3.5" Drive Bay
5 Hidden, 1 Exposed (converted from one 5.25" drive bay)
I/O Panel
USB 2.0 x 2, MIC x 1, eSATA x 1, Audio x 1 (support HD / AC97 Audio)
Expansion Slots
7 + 1
Cooling System
Front: 200 mm fan x 1 Red LED on / off fan x 1 / 700 RPM / 19 dBA (can be swap for 120 / 140 mm fan x 1)
Top: 200 mm fan x 1 / 700 RPM / 19 dBA (can be swap to 120 mm fan x 2 )
Rear: 120 mm fan x 1 / 1200 RPM / 17 dBA
Bottom: 120 / 140 mm fan x 1 (optional)
Side: 200 mm fan x 1 (optional) (can be swap for 120 mm fan x 2)
Power Supply
ATX PS2 / EPS 12V (optional)

PCWizKid's likes the following features from the HAF 922
Tool-less design for quickly maintaining or upgrading 3.5" or 5.25" drives

Removable anti-vibration HDD racks

Strong Steel Construction

Cable management routing system

LED Fan Controller


Optional fa

ns and water cooling support can

be mounted for maximum flexibility and cooling




Mesh design provides high air flow capability


Independent air intake designed for bottom-mounted PSU and anti-vibration pad for the PSU


CPU Cooler access hole on motherboard tray or easy install/replacement

Lots of room to maneuver and install large video cards and components

PCWizKid's would like to see the following features (not included in the HAF 922)
Dust filters on the bottom intake areas of the case
PCI expansion slot covers with holes for airflow
Additional mesh at rear for air flow
Front Panel I/O support for Firewire
---

PCWizKid tried hard to find flaws with the HAF 922 mid tower, but there isn't much to complain about.  This is a terrific starter case for a gaming rig.  With plenty of room and airflow the design, quality and features of Cooler Master HAF series cases once again makes it a PCWizKid Recommended product.  As seen in the video review the aggressive looks and functionality gives hard core gamers the ability to install multiple GPU's, CPU cooling and overclock taking their rig to the next level.  The cooling options are positioned in the right spots for keeping components cool and the inside fresh.   The inside support for cable management is excellent.  If your looking for a case that's not to big or too small, this one will fit your budget and your needs.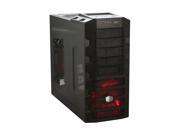 Click here for the latest pricing on the COOLER MASTER HAF 922 RC-922M-KKN1-GP Black Computer Case