PCWizKid is very excited to showcase and put to the test the latest CPU cooler from Cooler Master, the V8.   Like the name, its looks indicate a beast of an engine, however this engine dissipates energy thanks to eight 6mm copper heatpipes that stem from the solid copper base (which is machine finished smooth and shiny) into the aluminium fins, sandwiched by a 120mm fan for best possible cooling with your CPU of choice.  The range of supported CPU's this big boy can handle is very complete and you should not have any issues with the latest AMD AM3 and Intel Core i7 processors and supported motherboards.  One thing to note is the dimensions and the height which is about 16cm tall.  Make sure that the case you have is wide enough.  full Towers should be fine, but on a mid tower you should check the clearance in case the side cover touches it.  Cooler Master has done a great job in keeping the dimensions with the general specs of a case which one would expect however, everyone's system is different so always check your case manufacturer specs.

In PCWizKid's Tech Talk video review we detail and show how the Cooler is setup, its features and test it with the latest AMD Phenom II X3 (tripple core) CPU overclocked to 3.4Ghz with a core voltage of 1.475v.  Not only that PCWizKid toke the latest ATI Radeon HD4870x2 video card and overclocked it as well to 790Mhz core and 990 Mhz memory to really turn up the system and make it work.
TEST SYSTEM SPECS
- Phenom II 720 X3, overclocked at 3.4Ghz (200Mhz bus speed x 17 multiplier) Watch the video review of this CPU

Core voltage only was raised to 1.475v for a stable system at that high frequency.  The no load temperature was 24C and full load temperature was 30C

.

Ambient room temperature was 20 Celsius during all tests.
- Asus M3A78-T Motherboard Watch the review of this motherboard

BIOS needed to be updated to v8.02 to support the new AM3 CPU's

- Diamond HD4870 x2 2GB

Video card was overclocked to 790Mhz Core clock and 990Mhz memory clock

The AMD ATI Radeon Catalyst drivers version were 8.12

ATI Overdrive was tweaked manually and the fan was set to at least 50% speed

DirectX 10 was used
- Kingston HyperX 4GB DDR2 1066, settings were 5-5-5-18
- Cooler Master V8 CPU Cooler
- Hiper Osiris Case and Hiper 880 Watt PSU
- Replaced the front intake fan with a Silverstone F123 variable fan , which was used between 1200 to 2600 RPM
- Windows Vista Ultimate 64bit SP1 fully up to date
- All tests are performed at 1280x1024 resolution for consistency in results and comparisons with other system tests.
Watch PCWizKid's video review here
Specifications
Model

RR-UV8-XBU1-GP

CPU Socket
Intel Socket LGA1366
Intel Socket LGA775
AMD Socket (Socket 940/AM2/AM2+)
CPU Support
Intel: Core i7, Core 2 Extreme, Core 2 Quad, Core 2 Duo, Pentium Extreme Ed., Pentium Dual-Core, Pentium D, Pentium 4 Extreme Ed., Pentium 4 HT, Pentium 4, Celeron Dual-Core, Celeron D
AMD:Phenom, Athlon 64 X2, Athlon X2, Sempron
Dimension

120 x 128 x 161.1mm

Weight
1.91 lbs or 865 grams

Heat Sink Dimensions

120 x 120 x 158mm

Heat Sink Material

Copper Base / Aluminum Fins / 8 Heat Pipes

Heat Pipes Dimensions

6mm

Fan Dimension (W / H / D)

120 x 120 x 25mm

Fan Speed

800 - 1800RPM

Fan Airflow

69.69CFM

Air pressure (mmH2O)

2.94mm H2O

Bearing Type

Rifle Bearing

Fan Life Expectancy

40,000hrs

Fan Noise Level (dB-A)

17 - 21dBA

Fan Speed Adjustment

Install on PCI Slot

Connector

4-pin

Fan Control

PWM + VR Controller

Rated Voltage

12V

Start Voltage

7V

Operating Voltage

10.38V - 13.2V

Rated Current

0.12A

Input Power

1.44W
---
Conclusions

As mentioned in the video review the Cooler Master V8 is an excellent choice for a cooling option for any of the latest demanding CPU's today.  Just make sure you have space in your case to install it. The V8 utilizes backplate style mounting instead of the clip on design and is sturdy and tight making a solid contact for optimal cooling.  I really found that the design of the fan sandwiched in between really helps dissipate the heat out when installed correctly.  For any gaming rig or PC enthusiast looking to overclock their system without water cooling this is a terrific easy alternative that you cant go wrong with.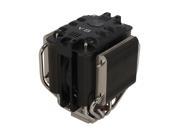 Latest pricing of the COOLER MASTER V8 RR-UV8-XBU1-GP 120mm Rifle CPU Cooler