PCWizKid is has seen many coolers on the market lately, however none of the size and uniqueness of the Cooler Master v10.  Today we put to the test one of the latest CPU coolers from Cooler Master, the V10. with the latest AMD Phenom II 955 CPU overclocked to the MAX 3.8Ghz!  Previously PCWizKid had reviewed the v8 cooler earlier which is impressive and reliable in its own right.  Cooler master stands for quality and cooling, and that is one of the strengths of their products.   At first looks, the v10 may be intimidating and someone odd to be able to fit in a mid tower case.  However PCWizkid will show you in the video review how the v10 can fit in the Cooler Master Scout Mid Tower case (which is a very tight fit). Rest assured if you have a larger mid tower case like the CM Storm Sniper or CM HAF you will have no problems with room for this cooler.

The intent of this cooler is to dissipate the heat from the CPU and and cool off your RAM thanks to ten 6mm copper heatpipes that stem from the solid copper base (which is machine finished smooth and shiny) into the aluminium fins.  The main portion of the CPU cooler has a 120mm LED fan which is sandwiched for best possible cooling with your CPU of choice.  With the Hybrid TEC solution it intelligently activates once the CPU reaches extreme temperatures.  However this is a dual cooler solution also since it has the ability to also cool off the RAM installed beside the CPU.  Definitely will attract overclockers and PC enthusiasts looking to push thier PC's to the limit with AIR cooling alone.

Test System
PCWizKid's Test system uses the latest Dragon Update Configuration.  This consists of the AMD Phenom II processors, AMD 790FX based motherboards, and the well known ATI HD Radeon 4800 series graphics cards, specifically the HD4890 is used in our case along with the latest DDR3 memory.  This combination is referred to as the "Dragon Update" platform.

DRAGON Update TEST SYSTEM SPECS used by PCWizKid

- Phenom II X4 955 Overclocked to 3.8 Ghz vCore 1.504v 
- Gigabyte MA790FXT-UD5P Motherboard
- OCZ DDR3 12800 Platinum AMD Edition (at 7-7-7-24 and 1.7volts timings)
- Two Diamond ATI Radeon HD4890 Overclocked at 950Mhz Core , 1060Mhz Memory clocks in crossfire
- WD Caviar Blue SATA HDD 500GB
- Tuniq Ripper 1000 Watt Power Supply
- Cooler Master Scout Case
- Cooler Master V10 CPU Cooler
- Windows 7 Ultimate RC
- Ambient room temperature 20C or 68F
Video Review
Specifications
Model

RR-B2P-UV10-GP



CPU Socket

Intel LGA1366 & 775, AMD 754/939/940/AM2



Dimension
(L) 9.32 x (W) 5.11 x (H) 6.36 inches
or
(L) 236.5 x (W) 129.6 x (H) 161.3 mm


Weight

2.65 lbs



Heat Sink Material

Cu base, AL fin, 10 heatpipes



Heat Pipes Dimensions

6mm



Fan Dimension
(L) 4.73 x (W) 1.00 x (H) 4.73 inches
or
(L) 120 x (W) 25 x (H) 120 mm


Fan Speed

800~2400 R.P.M



Fan Airflow

90 CFM (max)



Fan Air Pressure

2.94mm-H2O



Bearing Type

Rifle Bearing



Fan Life Expectancy

40,000 hours @ 25 ℃



Fan Noise Level (dB-A)

17 dB-A (min)



Connector

4-Pin



Fan Control

PWM



Operation Temperature

25 ~ 70 ℃



Power

70W (max)



Rated Current

9.8A (max)
---
Conclusions

The range of supported CPU's this big boy can handle is complete and you should not have any issues with the latest AMD AM3 and Intel Core i7 processors and supported motherboards. Not just your CPU but the DDR2/DDR3 Memory modules will get the additional airflow down from the second fan which is terrific. One thing to note is the dimensions and as seen in the video review you need a case with enough space.  Full Towers will be fine, but on a mid tower you should check the clearance.
As mentioned in the video review the Cooler Master V10 is an excellent choice for a AIR cooling option of any of the latest demanding CPU's today just make sure you have space in your case to install it and that the RAM you are using is low/standard profile with the heat spreaders. The V10 utilizes backplate style mounting instead of the clip on design and is sturdy and tight making a solid contact for optimal cooling.  I really found that the design of the fan sandwiched in between really helps dissipate the heat out and kept the CPU cool far from the temperature limits.  For any gaming rig or PC enthusiast looking to overclock their system without water cooling this is a terrific easy alternative that you cant go wrong with.
Latest Pricing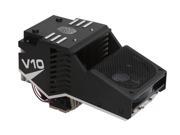 Click here for the latest pricing on the COOLER MASTER V10 Hybrid TEC RR-B2P-UV10-GP 120mm CPU Cooler