When we refer to the "Coolness" factor of a CPU Cooler, we aren't talking about temperatures but the looks and style of the CPU Cooler.  Cooler Master has sent PCWizKid their latest 200+Watt CPU Cooler called the V6 GT.  This is an enhanced version of the V6 CPU cooler with premium features and looks.  Previously PCWizKid reviewed the V8 and the V10.  The V6 GT is designed with a car engine look with a new mechanical structure that includes: V-shaped heatpipe array, asymmetrical aluminum fins (which are densely stacked for optimal cooling), two 12 cm silent fans with enhanced airflow, PWM speed control function, and DynaLoop™ long life bearing technology, snap-on cover to conveniently replace the fans.
Specifications
CPU Socket
Intel Socket LGA1366 / 1156 / 775
AMD Socket AM3/AM2+/AM2

CPU Support
Intel:
Core™ i7 Extreme / Core™ i7 / Core™ i5 / Core™ i3 / Core™2 Extreme / Core™2 Quad / Core™2 Duo / Pentium / Celeron

AMD:
Phenom™ II X4 / Phenom™ II X3 / Phenom™ II X2 / Phenom™ X4 / Phenom™ X3 / Athlon™ II X4 / Athlon™ II X3 / Athlon™ II X2 / Athlon™ X2 / Athlon™ / Sempron™
Dimension

131 x 120 x 165 mm (5.2 x 4.7 x 6.5 inch)

Weight

939g

Heat Sink Material

Copper base / 55 x 0.3mm Aluminum fins / 6 heatpipes

Fan Dimension

120 x 120 x 25 mm (4.7 x 4.7 x 1 inch)

Fan Speed

800 – 2200 RPM (PWM)

Fan Airflow

34.02 – 93.74 CFM

Fan Air Pressure

0.43 - 3.30 mm H2O

Bearing Type

DynaLoop™ Bearing

Fan Life Expectancy

40,000hrs

Fan Noise Level (dB-A)

15– 38 dBA

Connector

4-pins

Heat Pipes Dimensions

ø6mm

Rated Voltage

12 VDC

Start Voltage

6 VDC

Operating Voltage

6 – 13.2 VDC

Rated Current

0.45A (0.7A Max.)

Input Power

5.4W (8.4W Max.)
Video Review
Conclusion
The Cooler Master V6 GT truly looks great and performs better than expected with the extreme Intel Core i7 980X which we
overclocked also.  Its amazing what can be achieved by Air Cooling alone with the help of the dual 120mm fans and the V shape heatpipe design in the fins.  I must admit that the VG GT does begin to sound like a engine when we tested the CPU at 100% overclocked, the fans kicked in at almost 2200 RPM for a noticeable sound, however on idle it was quiet.  Installation was actually faster than the V8 version we had reviewed and the LED changing option on the stripe is a nice touch. Those looking for a Air Cooling solution with style will love the results.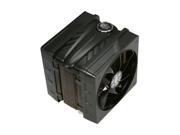 Click here for the latest pricing on the COOLER MASTER V6 GT CPU Cooler