Recently, AMD launched the new Athlon II X3 435 CPU, a triple core CPU codenamed RANA.  PCWizKid has the opportunity to test ride the CPU compared to its earlier released Athlon II X2 and x4 editions tested.  Previously when we reviewed the X2 model it proved to be very energy efficient and produced low temperature readings as well as having a lower price than Phenom's and many comparable Intel CPU's.  Along came the Athlon II X4 620 which proved to be the top in the Athlon II class with no question.  It is only logical that with AMD's track record for releasing triple core CPUs such as the Phenom II X3 720, that we get a Athlon II X3.  This triple core model should deliver similar results hopefully as the quad core though there are some minor differences.  One thing to keep in mind is that this CPU is not a black Edition so its multiplier is locked at no higher than x14.5, however the CPU bus speed can be raised if desired to overclock it.

Where do we stand with the Athlon II's these days?  When it comes to energy efficient CPU's using the 45nm architecture the RANA core of the Athlon II X3400 series CPU's has 1.5MB of Level 2 Cache (512KB per core) versus the 2MB Cache normally found in the Athlon II X4.  However this tripple core model comes at a default 2.9Ghz default clock speed which is very promising and shows how a 3Ghz CPU is becoming the minimum mainstream speed these days.

Test System
- Jetway MA3785GP AM3 MicroATX Motherboard
- AMD Factory Default CPU Cooler
- Tuniq TX-3 Thermal Grease (Recommended over the default stock included material)
- 2GB DDR3 Kingston HyperX Memory
- SilverStone SG03 Mini Tower Case
- OCZ Mod Extreme 700W PSU
- Windows 7 Ultimate 64bit Edition
- (Room Temperature 21C Celsius)
Video Review
Specifications
Model Number & Core Frequency: X3 435 / 2.9GHz
OPN: ADX435WFK32GI
L1 Cache Sizes: 64K of L1 instruction and 64K of L1 data cache per core (384KB total L1 per processor)
L2 Cache Sizes: 512KB of L2 data cache per core (1.5MB total L2 per processor)
Memory Controller Type: Integrated 128-bit wide memory controller *
Memory Controller Speed: Up to 2.0GHz with Dual Dynamic Power Management
Types of Memory Supported: Unregistered DIMMs up to PC2-8500 (DDR2-1066MHz) -AND- PC3-10600 (DDR3-1333MHz)
HyperTransport 3.0 Specification: One 16-bit/16-bit link @ up to 4.0GHz full duplex (2.0GHz x2)
Total Processor-to-System Bandwidth: Up to 37.3GB/s total bandwidth [Up to 21.3 GB/s memory bandwidth (DDR3-1333) + 16.0GB/s (HT3)]
Up to 33.1GB/s total bandwidth [Up to 17.1 GB/s memory bandwidth (DDR2-1066) + 16.0GB/s (HT3)]
Packaging: Socket AM3 938-pin organic micro pin grid array (micro-PGA)
Fab location: GLOBALFOUNDARIES Fab 1 module 1 in Dresden, Germany (formerly AMD Fab 36)
Process Technology: 45-nanometer DSL SOI (silicon-on-insulator) technology
Approximate Die Size: 169mm2 **
Approximate Transistor count: ~300 million **
Max Temp: 73o Celsius
Nominal Voltage: 0.875-1.425V
Max TDP: 95 Watts
Along with the Athlon II X3 435, AMD has also released a nice little bundle of Athlons with the following price range
(Price of the Athlon II X3 435 is based on November 2009 newegg.com listings)
Athlon II X4 605e (2.3GHz) $143 USD
Athlon II X4 600e (2.2GHz) $133 USD
Athlon II X3 435 (2.9GHz) $89 USD
Athlon II X3 425 (2.7GHz) $76 USD
Athlon II X3 405e (2.3GHz) $102 USD
Athlon II X3 400e (2.2GHz) $97 USD
Athlon II X2 240e (2.8GHz) $77 USD
Athlon II X2 235e (2.7GHz) $69 USD
Note: the 435 and 425 are standard processors rated at 95W
Note: "e" indicates a low-power processor with a maximum power rating of just 45W
Conclusion
PCWizKid was interested in seeing how well the standard 95W CPU triple core would result, and as expected it lied exactly in
between a Ahlon II X2 and a X4.  To no surprise power consumption was low and temperature readings as seen in the video review proved that the consistant marketing position of a Athlon II as a budget CPU that can do more for less is indeed true.  For $89 US on newegg.com you can have terrific results on an average PC, however benchmarks proved that the Athlon II X4 620 for $10 more has better performance.  Still the Athlon II X3 435 outperforms previous Athlon's II x2's and the new Phenom II X2 550 as well which is surprising since the Phenom cores are always expected to do better.  Since we are comparing what you can get for the price point, this Athlon II X3 has an edge over the cheapest Intel Core 2 Duo E8400 costs about $150 or more aprox.  For a mainstream CPU this one delivered solid performance and overclocked well with no voltage increase and using the factory default cooler.  For those looking to do hardcore gaming and perhaps overclock, the results were simple and effortless only the CPU bus frequency was raised. Under the new Windows 7 operating system we tested it hassle free.  Not a bad CPU to chose from the line up, the question for you is which flavour?  Still a job well done for AMD on these Athlon II series!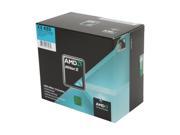 Clcik here for the latest pricing on the  AMD Athlon II X3 435 2.9GHz Socket AM3 95W Triple-Core Processor