AMD has released their latest flagship desktop CPU targeted at performance-minded PC enthusiasts and overclockers. The FX-Series is based on the processor core formerly codenamed Zambezi, which leverages AMD's much anticipated Bulldozer microarchitecture. The flagship processor in the new FX-Series line-up is the FX-8150, an unlocked, 8-Core processor which PCWizKid will be reviewing in this artcle.
The new CPU is made of aproximately 2 billion transistors and is about 315mm2 and uses the Global Foundries' 32nm DSL SOI (silicon-on-insulator) technology.  There is 128 KB of L1 Data Cache (16KB per core), 256 KB of L1 Instruction Cache (64KB per module), and 8MB of L2 Cache (2MB per module), along with 8MB of shared L3 cache which is exactly what you want for a high performing desktop PC.  There are four 16-bit HyperTransport links present, although only one is enabled on desktop Bulldozer processors, the others are present for server-class products which are based on the same core design. There is also an Integrated memory controller / northbridge which features two, 72-bit wide DDR3 memory channels.
At the same time AMD has other FX CPU's they are launching which are seen in the chart below.  Intersting to see a 4 core and a 6 core alternative of the FX which we hope to review soon.
Specifications
| | |
| --- | --- |
| Model Number & Frequency: | FX-8150 / 3.6GHz (base), 3.9GHz (CPU Turbo), 4.2GHz (Max Turbo) |
| OPN: | FD8150FRW8KGU |
| L1 Cache Sizes: | 256K L1 instruction (64KB per module) / 128K L1 data cache (16K per module) |
| L2 Cache Sizes: | 2MB of L2 data cache per module (8MB total L2 per processor) |
| L3 Cache Size: | 8MB (shared) |
| Total Cache (L2+L3): | 16MB |
| Memory Controller Type: | Integrated 72-bit x 2 memory controller |
| Memory Controller Speed: | Up to 2.2GHz with Dual Dynamic Power Management |
| Types of Memory Supported: | Unregistered DIMMs up to PC3-14900 (DDR3-1866) |
| HyperTransport 3.0 Specification: | One 16-bit/16-bit link @ up to 4.4GHz full duplex (2.2GHz x2) |
| Packaging: | Socket AM3+ 938-pin organic micro pin grid array (micro-PGA) |
| Fab location: | GLOBALFOUNDARIES Fab 1 module 1 in Dresden, Germany |
| Process Technology: | 32-nanometer DSL SOI (silicon-on-insulator) technology |
| Approximate Die Size: | ~315mm2 |
| Approximate Transistor count: | ~2 Billion |
| Max TDP: | 125 Watts |
Video Review
Overclocking Review
Conclusion
As seen in the video review by PCWizKid, the FX-8150 is the fastest desktop processor AMD has released to date. In most tests the FX-8150 was able to beat previous Phenom II X4 benchmarks but in some tests we saw lower single-threaded performance than the Phenom II 1100T for example, which was a little dissapointing. However in comparison to Intel's 2500K CPU, the AMD FX-8150 performed right about on par with it and in the rendering test wtih Cinebench 11.5 it beat it slightly. AMD still has a good product on its hands with the FX series. Performance is good; in some workloads the processor significantly outpaces the previous-gen Phenom II and thats what PCWizKid wants to see, an increase in overall performance.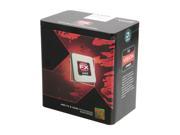 Click here for the latest pricing on the AMD FX-8120 3.1GHz Socket AM3+ 125W Eight-Core Desktop Processor