If you have an available USB 3.0 port on your system, you can take full advantage of the increased bandwidth and enjoy speedier file transfers. Even if you don't have USB 3.0 yet but plan to adopt it in the near future, the enclosure is backward compatible with USB 2.0 and USB 1.1. Sounds like a win-win situation so far, so let's take a further look and find out for sure.
Today PCWizKid takes a close look at the Sunbeamtech Airbox USB 3.0 3.5" external enclosure.  It is constructed with an all aluminum housing, and is combined with an 8cm LED fan that blows cool air directly onto the hard drive inside. Supporting up to 2TB in hard drive capacity it comes with a cool blue LED and a control button to turn ON and OFF the LED fan's light to suit your mood. The USB3.0 interface allows for up to 5Gbps transfer rate which is said to give upto 10x more performance than USB 2.0.
Specifications
Part number

EN-AIR-USB3.0-BK
EN-AIR-USB3.0-EU-BK

Color:

Black

Interface

USB3.0

Supported drive size

3.5" SATA I/II

Material

Aluminum (except the front / back panels and thermal relief holes)

Maximum transfer rate

USB3.0: 5Gbps

Fan Speed

1600RPM +/- 10%

Front Indicator Light

Power On: steady blue light
Disk Access: flashing blue light

Back Indicator Light

Fan state

Power Supply

100V-240V

Dimensions

203(L) x 126(W) x 44(H)mm

Weight:

435g

Supported OS

Windows 2000(SP4)/ME(SP2)/XP/VISTA/Win7
Linux 2.4.1.0 or higher
MAC OS 8.6 or higher
Video review
Conclusion
PCWizKid was sold on the Sunbeamtech Airbox, there's no way I would want to go back to using a USB 2.0 HDD enclosure after the
blazing transfer speeds shown in the video review.  The increase in speed was obvious and noticeable.  Overall, the Sunbeamtech Airbox enclosure is a great buy, the additional cooling provided by the fan was evident in the temperature readings and the price is reasonable for what you are getting compared to USB 2.0 enclosures.  PCWizKid's gives this an "Recommended Award".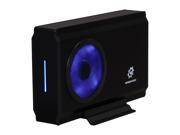 Click here for the latest pricing on the SunbeamTech Airbox Black External Enclosure